The Search for Sasquatch (A Wild Thing Book) (Hardcover)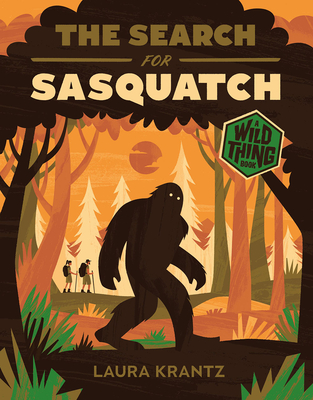 November/December 2022 Kids Indie Next List
---
"Is Sasquatch real? Read this book to find out! Readers will delight in Sasquatch facts, and learn HOW to ask the right questions when searching for the truth. This will inspire a new wave of kids to ask questions about the world around them."
— Revati Kilaparti, Old Firehouse Books, Fort Collins, CO
Description
---
Inspired by her popular Wild Thing podcast, journalist Laura Krantz incorporates the scientific method and her journalistic skills to determine if Bigfoot is real
When journalist Laura Krantz discovered that her long-lost cousin, Grover Krantz, a distinguished anthropologist and professor at Washington State University, had devoted much of his career to the search for Bigfoot, she couldn't quite believe it. A natural skeptic and a strong believer in facts, Krantz decided to conduct her own quest for the most famous and elusive mythical creature.

The Search for Sasquatch takes readers through the big guy's fun, fascinating, and complex world, posing the question: Could Bigfoot be out there? Exploring the gray area between myth and science, Krantz takes readers on a strange, surreal, and surprising hunt for the fabled Sasquatch—showing us how to challenge our gut assumptions and open our minds to new possibilities, to think critically, and to use the scientific method along the way. The Search for Sasquatch asks readers to evaluate the evidence it presents and make up their own minds, all while considering why Bigfoot might be important—even if we don't find him.

About the Author
---
Laura Krantz is a journalist in both radio and print. Her podcast, Wild Thing, received critical acclaim from Scientific American, Rolling Stone, and The Atlantic, and is now the basis for a series of nonfiction middle-grade books including The Search For Sasquatch (October 2022) and Is There Anybody Out There? (October 2023). Formerly, Krantz was an editor and producer with NPR in Washington, DC and KPCC in Los Angeles and her writing appeared in Popular Science, Smithsonian Magazine,High Country News, and Outside. She lives in Denver with her husband, two cats, and a couple of indoor-outdoor spiders. More at www.laurakrantz.com or find her on Twitter and Instagram, @krantzlm.
Praise For…
---
"A case study in the tension between scientific objectivity and human nature….opens with lucid discussions of taxonomy and human evolution….[Krantz] highlights the importance of keeping an open mind and recognizing that there are still unsolved mysteries in the world….. diligent research…a readable précis."
— Kirkus Reviews

"I know the journalist Laura Krantz to be a science-trusting, facts-first person….One of my favorite Laura Krantz-isms is this. Even if Bigfoot isn't real, we as a species need him to be."
— A Martínez, NPR Morning Edition