Something Happened in Our Town: A Child's Story about Racial Injustice (Hardcover)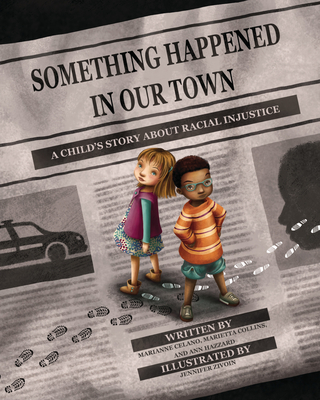 $16.99

Out Of Stock - Can Be Ordered For You. May take extra time.
Description
---
A Minneapolis Children's Theatre Company Original World Premiere Production
A NEW YORK TIMES and #1 INDIEBOUND BEST SELLER
American Library Association's Office of Intellectual Freedom's Top 10 Most Challenged Books
A Little Free Library Action Book Club Selection
National Parenting Product Award Winner (NAPPA)
Emma and Josh heard that something happened in their town. A Black man was shot by the police.
"Why did the police shoot that man?"
"Can police go to jail?"
Something Happened in Our Town
follows two families -- one White, one Black -- as they discuss a police shooting of a Black man in their community. The story aims to answer children's questions about such traumatic events, and to help children identify and counter racial injustice in their own lives. Includes an extensive Note to Parents and Caregivers with guidelines for discussing race and racism with children, child-friendly definitions, and sample dialogues. Free, downloadable educator materials (including discussion questions) are available at www.apa.org.
From the Note to Parents and Caregivers:
There are many benefits of beginning to discuss racial bias and injustice with young children of all races and ethnicities:
Research has shown that children even as young as three years of age notice and comment on differences in skin color.
Humans of all ages tend to ascribe positive qualities to the group that they belong to and negative qualities to other groups.
Despite some parents' attempts to protect their children from frightening media content, children often become aware of incidents of community violence, including police shootings.
Parents who don't proactively talk about racial issues with their children are inadvertently teaching their children that race is a taboo topic. Parents who want to raise children to accept individuals from diverse cultures need to counter negative attitudes that their children develop from exposure to the negative racial stereotypes that persist in our society.
Order the companion books,
Something Happened in Our Park: Standing Together After Gun Violence
and
Something Happened to My Dad: A Story About Immigration and Family Separation
.
About the Author
---
Marianne Celano, PhD, ABPP, Marietta Collins, PhD, and Ann Hazzard, PhD, ABPP worked together for over two decades as Emory University School of Medicine faculty members serving children and families in Atlanta. All three psychologists have been involved in community advocacy efforts focused on children's behavioral health and social justice. Dr. Celano and Dr. Hazzard have developed and utilized therapeutic stories in individual and group therapy with children and teens. All three authors valued story-time with their children, who taught them important lessons about what children need from adults. This is their first picture book for children. Jennifer Zivoin has always loved art and storytelling, so becoming an illustrator was a natural career path. She has been trained in media ranging from figure drawing to virtual reality, and earned her bachelor of arts degree with highest distinction from the honors division of Indiana University. During her professional career, Jennifer worked as a graphic designer and then as a creative director before finding her artistic niche illustrating children's books, including Something Happened in Our Town, Did You Hear?, and A World of Pausabilities. She lives in Indiana.Visit her at www.jzartworks.com.