The Friendship Book (Hardcover)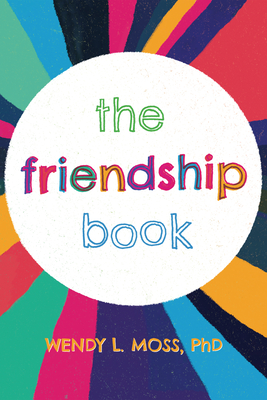 Description
---
Making and Keeping Good Friends is the resource kids need to figure out friendship.
Kids will figure out what they want out of their friendships, how to be a good friend, resolve conflicts, and much more in this upbeat book meant to help forge lasting relationships. Full of practical tips, insightful quizzes, and relatable examples, this is a unique resource to help kids understand friendships. Kids will take a peek inside friendships and how they can be connected through shared time together.
Topics covered include:
Seeking and making friends
Being a good friend
Surviving disagreements
Best Friends
Friendships and peer pressure
Friendships and social media
Feeling alone
How friendships change over time
About the Author
---
Wendy L. Moss, PhD, ABPP, FAASP, has her doctorate in clinical psychology, is a licensed psychologist, and has a certification in school psychology. Dr. Moss has practiced in the field of psychology for over 30 years and has worked in hospital, residential, private practice, clinic, and school settings. She has the distinction of being recognized as a diplomate in school psychology by the American Board of Professional Psychology for her advanced level of competence in the field of school psychology. Dr. Moss has been appointed as a fellow in the American Academy of School Psychology. In addition, she is the author of Stand Up!: Be an Upstander and Make a Difference, Bounce Back: How to Be a Resilient Kid, Being Me: A Kid's Guide to Boosting Confidence and Self-Esteem, and Children Don't Come With an Instruction Manual: A Teacher's Guide to Problems That Affect Learners; coauthor, with Donald A. Moses, MD, of The Tween Book: A Growing-Up Guide for the Changing You; coauthor, with Robin A. DeLuca-Acconi, LCSW, of School Made Easier: A Kid's Guide to Study Strategies and Anxiety-Busting Tools; coauthor, with Susan A. Taddonio, DPT, of The Survival Guide for Kids With Physical Disabilities & Challenges; and has written several articles.