Comment Tout a Commencé (Hardcover)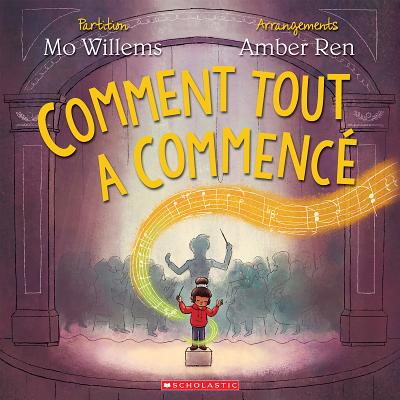 Description
---
See below for English description.
Dans ce r cit mouvant mettant en vedette une jeune fille qui se retrouve sous les feux des projecteurs, Mo Willems, auteur-illustrateur figurant au palmar's du New York Times, offre aux jeunes lecteurs une symphonie triomphale ayant pour th mes la chance, la d couverte, la pers v rance et la magie. L'illustratrice, Amber Ren, donne vie l'univers musical de Willems alors qu'elle orchestre son tout premier album pour enfants.
Mo Willems, a number one New York Times best-selling author and illustrator, composes a powerful symphony of chance, discovery, persistence, and magic in this moving tale of a young girl's journey to centre stage. Illustrator Amber Ren brings Willems' music to life, conducting a stunning picture book debut.
Original title: Because
About the Author
---
Tout a commenc avec les bandes dessin es que Mo Willems a cr es quand il tait enfant. Il est devenu crivain et animateur de l' mission Sesame Street, ce qui lui a valu six Emmy Awards. Puis il a voulu crire des livres cause de son amour de la lecture. Pour cette raison et pour une foule d'autres, il a crit et illustr plus de cinquante livres pour enfants, dont la collection l phant et Rosie. Il a re u un honneur Caldecott trois reprises et a t laur at de deux m dailles Theodor Seuss Geisel et de cinq mentions sur la liste d'honneur Geisel. Tout a commenc quand Amber Ren a quitt la Chine pour s'installer aux tats-Unis avec sa famille (et son r ve) alors qu'elle tait adolescente. Elle a fr quent la biblioth que Huntington de Los Angeles durant ses tudes secondaires. Un jour, elle a vu un superbe tableau de John Singer Sargent ce qui lui a donn envie d' tudier les arts. Pour cette raison et pour une foule d'autres, elle a obtenu un baccalaur at en beaux-arts et en animation l'universit CalArts. Elle travaille pr sentement comme artiste en d veloppement visuel pour Dreamworks TV et Warner Bros. Ce livre est son premier album pour enfants. Because Mo Willems grew up writing and drawing comics-he became a writer and animator on Sesame Street (where he won six Emmy Awards). Because Mo also loved reading when he was a kid-he wanted to make books. Because of many other becauses, Mo has written and illustrated over fifty children's books and has been awarded three Caldecott Honors, two Theodor Seuss Geisel Medals, and five Geisel Honors. Because Amber Ren moved with her family (and a dream) from China to the United States when she was a teenager-she visited the Huntington Library in Los Angeles. Because she saw a beautiful painting by John Singer Sargent-Amber was inspired to study art. Because of many other becauses, Amber earned her BFA at CalArts and currently works as a visual development artist for Dreamworks TV, Warner Bros. Animation and others. This is her debut picture book.