On Brand: Shape Your Narrative. Share Your Vision. Shift Their Perception. (Hardcover)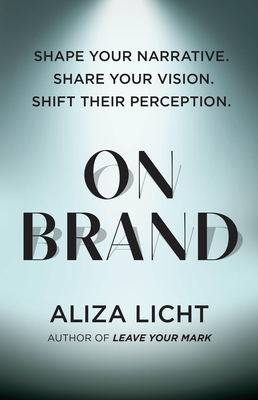 $27.99

Pre-Order Now! Please Place On A Separate Order From Other Purchases.
Description
---
From bestselling author Aliza Licht, On Brand is part career book, part personal growth guide and will help you answer the question: What's on brand for you? Ideal for anyone seeking personal development to help them level up, pivot professionally, or for support through a transition.
How you show up in person, over email, and on social media communicates your personal brand. That brand deserves thoughtful cultivation and crafting as you shape your narrative, build your network, grow your confidence, and plot your future. Aliza Licht, a former fashion executive who successfully turned her communications expertise into a multimedia brand and consultancy, shares both personal and professional advice from her lived experiences and from expert contributors to help you discover what your brand is: who you already are, who you want to be, and how to ensure others see you that way.
In a world where the lines between personal and professional are blurred and we communicate nonstop in both obvious and subtle ways, getting your message right and learning how to market yourself is paramount to success, and can determine which opportunities are presented to you, or handed to someone else.
This book is for the new graduate seeking her first job, the middle manager looking to level up, the executive who wants to become more notable, the entrepreneur building from scratch, the person who wants to pivot to a new career, the social media influencer who is her own brand--it's for anyone who wants to affect the way people perceive them and feel proud when they hear the words "that's so on brand for you."
This personal branding book has the best practices for anyone-whether you're just starting to consider your personal brand or have decided to rebrand yourself-to help you engage the world, to be known and understood so you can prosper professionally, personally, and financially. It's the new What Color is Your Parachute book for graduates seeking career help relevant to the social media generation, and new leadership books for the remote work employee wanting to establish influence in today's virtual workplace.
About the Author
---
ALIZA LICHT is an award-winning marketer, bestselling author, podcaster, personal branding expert, and the founder of LEAVE YOUR MARK, a multimedia brand and consultancy. She advises businesses and mentors individuals on brand-building and career development. Licht leverages over two decades of expertise in marketing, communications, and digital strategy in the fashion industry. She was named one of "America's Next Top Mentors" by The New York Times and Business Insider's "Top 20 Most Innovative Career Coaches." As a social media pioneer and one of the first fashion influencers, Licht created and was the voice of the anonymous Twitter phenomenon DKNY PR GIRL. Licht is a sought-after keynote speaker and sits on several industry boards. She lives in New York City with her husband, two children, and two dogs. Find her online at alizalicht.com and @alizalichtxo.