Do You Know Your Groom?: A Quiz About the Man in Your Life (Do You Know?) (Paperback)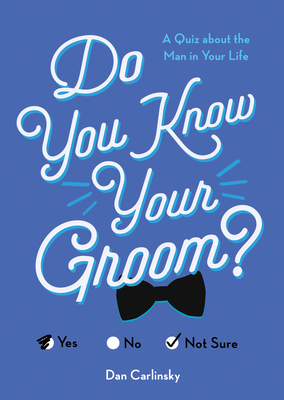 Description
---
The ultimate interactive game that takes your knowledge of your significant other to new heights! Get ready to dive deep into the depths of your relationship and discover fascinating facts about your groom with this engaging and hilarious quiz.
From the moment you unwrap this delightful package, you'll be greeted by an array of carefully curated questions that cover everything from his favorite hobbies and childhood dreams to his go-to comfort food and secret guilty pleasures. You'll be amazed by how much you'll learn about your groom's innermost desires, fears, and aspirations.
Key Features:
Over 200 thought-provoking questions to test your knowledge of your husband-to-be.
Discover intriguing details about your partner's life, dreams, and preferences.
Strengthen your bond and create lasting memories as you navigate through the quiz.
Perfect funny gift for engagement parties, bridal showers, bachelorette parties, wedding gifts, anniversaries, and Valentine's Day.
Suitable for all couples, from newlyweds to those celebrating decades of love.
Unlock the secrets of your groom's heart and embark on a journey of discovery and connection like never before. Do You Know Your Groom?: A Quiz About the Man in Your Life is the ultimate game to celebrate your love and create cherished moments that will last a lifetime.
About the Author
---
Dan Carlinsky is a writer and literary agent. He is the author of Do You Know Your Husband? and Do You Know Your Wife?, which have sold more than 250,000 copies.