Christmas Scarf Murder (Hardcover)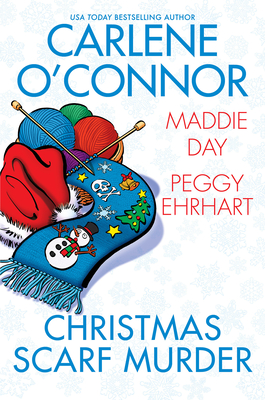 $26.00

Out Of Stock - Can Be Ordered For You. May take extra time.
Description
---
They're coziest of wintertime accessories…unless, of course, they become accessories to murder! USA Today bestselling author Carlene O'Connor teams up with Maddie Day and Peggy Ehrhart for a holly jolly Christmas collection of seasonal stories, as their beloved series sleuths each solve cases revolving around handknit Christmas scarves.

CHRISTMAS SCARF MURDER by CARLENE O'CONNOR
When grinchy thefts steal the good cheer at a local nursing home, Siobhan O'Sullivan manages to identify one missing item before Kilbane, Ireland's Christmas tractor parade—a hideous shamrock scarf wrapped around a very dead body. Now, with her holiday farmhouse bash approaching, Siobhan must dash to stop a deadly Secret Santa from gifting another unwanted surprise.


SCARFED DOWN by MADDIE DAY
It's beginning to taste a lot like Christmas at Pans 'N Pancakes, as twelve days of menu specials dazzle hungry locals. But the festivities go cold the instant a diner dies while knitting a brilliant green scarf. With Aunt Adele tied into a murder investigation, it's all on Robbie Jordan to find out who's really been naughty or nice in South Lick, Indiana.

DEATH BY CHRISTMAS SCARF by PEGGY EHRHART
Suspects pile up faster than New Jersey snow when frosty-tempered Carys Walnutt is found strangled by a handmade scarf auctioned at Arborville's tree-lighting ceremony. Between a winning bidder hiding behind the alias "S. Claws" and a victim who deserved coal in her stocking, can Pamela Paterson and the crafty Knit and Nibble ladies freeze a killer's merry murder plot?
About the Author
---
Carlene O'Connor is the USA Today bestselling author of the acclaimed Irish Village Mysteries, the County Kerry Novels, and the Home to Ireland Mysteries. Born into a long line of Irish storytellers, her great-grandmother emigrated from Ireland filled with tales in 1897 and the stories have been flowing ever since. Of all the places she's wandered across the pond, she fell most in love with a walled town in County Limerick and was inspired to create the town of Kilbane, County Cork, the setting of her Irish Village Mystery series. She is a member of Mystery Writers of America and Sisters in Crime, and currently divides her time between Southern California and the Emerald Isle. Please visit her online at CarleneOConnor.net.

Maddie Day is the Agatha Award and Macavity Award-winning author of the Cozy Capers Book Club Mystery series and the Country Store Mysteries, as well as other series written under the name Edith Maxwell. A member of Sisters in Crime and Mystery Writers of America, she is a regular contributor at Mystery Lovers' Kitchen and belongs to The Wickeds, a group of six bestselling authors who blog at WickedAuthors.com. Day lives with her beau north of Boston, though she knows both Indiana and Cape Cod intimately. She is a talented amateur chef and gardener and can be found online at MaddieDayAuthor.com.

Peggy Ehrhart is a former English professor who lives in Leonia, New Jersey, where she writes mysteries and plays blues guitar. She holds a Ph.D. in medieval literature from the University of Illinois and taught writing and literature at Queens College, CUNY, and Fairleigh Dickinson University, where she was a tenured full professor. Her short stories have appeared in Futures Mystery Anthology Magazine, Crime and Suspense, Flashing in the Gutters, Spinetingler, Crime Scene: New Jersey 2, and Murder New York Style. A longtime member of Mystery Writers of America and Sisters in Crime, Peggy served on the board of MWA New York as head of the Mentor Committee. She was president of Sisters in Crime NY/TriState from 2013 to 2015. Peggy regularly attends mystery-writing conferences and participates in conference panels and gives talks on mystery fiction at libraries in New York, Connecticut, and New Jersey.