The Great Escaper: The Life and Death of Roger Bushell (Paperback)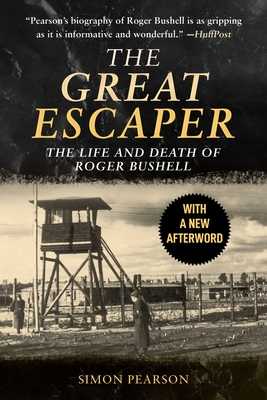 Description
---
A Sunday Times bestseller, the real story behind the mastermind of the most famous breakout in history—The Great Escape.

While the most famous images from the 1963 film The Great Escape include either a motorcycle or a ball—but definitely Steve McQueen—Richard Attenborough played the part of "Big X," the British mastermind behind the greatest escape in history. Like the subject of the film, "Big X" was a real person. Roger Bushell was the mastermind of the mass breakout from Stalag Luft III in March 1944.

Very little was known about Bushell until 2011, when his family donated his private papers to the Imperial War Museum. Through exclusive access to this material, as well as new research from other sources, Simon Pearson has written the first biography of this iconic figure. Born in South Africa in 1910, Roger Bushell was the son of a British mining engineer. On May 23, 1940, his Spitfire was shot down during a dogfight over Boulogne after destroying two German fighters. Over the next four years he made three escapes, coming within one hundred yards of the Swiss border during his first attempt. His third (and last escape) destabilized the Nazi leadership and captured the imagination of the world, forever immortalized by Hollywood.

Simon Pearson's revealing biography is a vivid account of war and love, triumph and tragedy—and one man's attempt to challenge remorseless tyranny in the face of impossible odds.
About the Author
---
Simon Pearson is chief night editor of The Times. His journalistic career has taken him from regional newspapers in England, through Hong Kong, China, Australia, and the United States, to senior positions in Fleet Street. He also has worked for the Daily Telegraph and the Sunday Times. He lives with his wife, Fiona, and their three sons, in south London.
 
Praise For…
---
"Pearson's biography of Roger Bushell is as gripping as it is informative and wonderful."―Huffington Post

"Simon Pearson has at last done justice to [Roger Bushell's] memory in this enthralling book, an astounding story of honour and resilience."―Sunday Times

"The Great Escaper is a compelling narrative, one which paints a convincing picture of a true war hero."―Allan Mallinson, The Times

"Told with wonderful relish by Simon Pearson, who has undoubtedly produced the definitive biography of Bushell."―Daily Express