Why We Travel: 100 Reasons to See the World (Hardcover)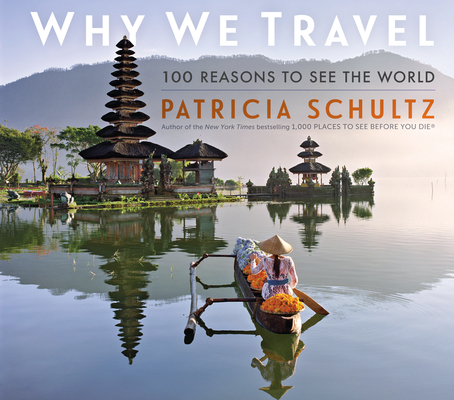 Description
---
From the author of 1,000 Places to See Before You Die, a rallying cry to get off the couch and out into the world.
WHY WE TRAVEL is filled with personal stories and anecdotes, quotes that inspire, and reasons to motivate–plus images so lush you can't wait to be there. For years Patricia Schultz has been telling us where to travel, and we love listening. Now, in telling us why to travel, she reveals what makes her such a compelling guide and what makes travel such a richly rewarding experience. There's the time she was on safari in Zambia yet found her most lasting memory in a classroom of five-year-olds. The comedy of mishaps that she and friends endured on a canal trip through southern France—and how it brought them together in an unexpected way. She quotes favorite authors and luminaries on the importance of travel and, in a series of memorable aphorisms, gets to the essence of why to travel. And gives us a few travel hacks, too. Travel is, as the writer Pico Iyer says, the thing that causes us to "stay up late, follow impulse, and find ourselves as wide open as when we are in love." Why We Travel is all about rekindling that feeling. Just book a ticket, pack a bag, and dive headlong into an adventure.
About the Author
---
Patricia Schultz is the author of the #1 New York Times bestsellers 1,000 Places to See Before You Die and 1,000 Places to See in the United States and Canada Before You Die. She is a veteran travel journalist with over thirty years of experience, writing for Frommer's, Berlitz, and Access travel guides, as well as the Wall Street Journal, Condé Nast Traveler, and other magazines and newspapers. Her home base is in New York City, but good luck finding her there!
 
Praise For…
---
"Patricia Schultz has happily once again woven her wisdoms and recommended wanderings into an uplifting gem of a new book."
 —Forbes