Psycho by the Sea (A Constable Twitten Mystery #4) (Hardcover)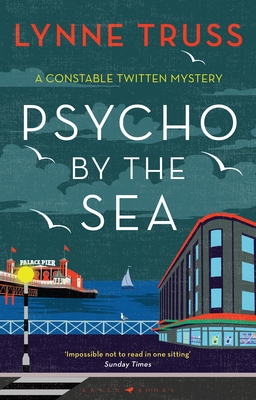 Other Books in Series
This is book number 4 in the A Constable Twitten Mystery series.
Description
---
In the latest installment of this charming and quirky series, a trio of detectives are faced with the arrival of an escaped criminal with an unlikely penchant for boiling the heads of policemen.

It's September in the British beach town of Brighton, and the city is playing host to weeks of endless rain and some brand new villains.

A trusted member of a local gang has disappeared part way through planning a huge heist; a violent criminal obsessed with boiling the heads of policemen has escaped a local prison, and at Gosling's department store an American researcher has been found dead in the music section.

Inspector Steine has other things on his mind – since the triumphant conclusion to his last case, Steine has so many awards and invitations coming his way that he has had to take on a secretary – but Sergeant Brunswick and Constable 'Clever Clogs' Twitten are both on the case. If only they could work out just who is behind these dastardly acts…
About the Author
---
Lynne Truss is a columnist, writer and broadcaster whose book on punctuation Eats, Shoots & Leaves was a New York Times bestseller. She has written extensively for radio, and is the author of seven previous novels. The Constable Twitten series won the Last Laugh award at CrimeFest and was longlisted for the CWA Daggers. Lynne lives in Sussex and London with two dogs.
Praise For…
---
"The witty and action-packed Psycho by the Sea carries readers along in surprising fits and starts, like a bumper-car ride. Elaborate schemes go awry, architectural follies self-destruct and the intelligence of several characters increases ever so slightly. This is a book in which there is candor (if not honor) among thieves." —The Wall Street Journal

"Hilarious . . . The characters are delightfully overblown, the storyline whimsical . . . the funniest, the quirkiest and the most entertaining read of the bunch." —BookPage

"Clever, intricately plotted . . . The complicated, often comic relationships among the principal characters provide much of the fun. Truss is unmatched in her ability to balance humor and crime." —Publishers Weekly

"The craft and care with which author Truss weaves her facts into a richly narrated but utterly hilarious tapestry is amazing. The reader may find himself wondering how she manages to keep her facts straight as she throws his own mental processes into such a delightful muddle." —New York Journal of Books on A SHOT IN THE DARK

"If P.G. Wodehouse had written a mystery starring the Keystone Kops, it would have read something like Psycho by the Sea, but it might not have been as funny. … The fourth Constable Twitten mystery is a Wodehousian delight, in which the witless Brighton Police are up against an escaped psychiatric patient with a penchant for killing cops." —Shelf Awareness

"Fans of Truss's series will be delighted by the elaborately plotted misadventures of the inept police officers and the women who manipulate them. The darkly humorous story will appeal to those who enjoy crime with comic overtones." —Library Journal