Which Wine When: What to drink with the food you love (Hardcover)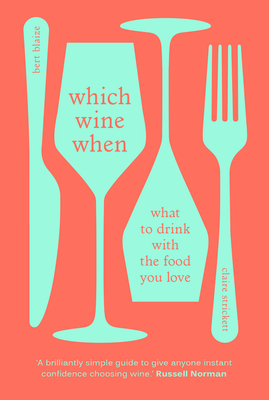 Description
---
Which Wine When offers brilliant wine matches to the food we eat every day. This is for anyone who knows their sourdough from their sliced white but still finds themselves standing in the wine aisle making panicked decisions about what to drink based on special offers, a vague memory or a nice-looking label. Now you'll be able to look up dish or style of cooking and find three recommendations—and if the shop doesn't have what you want, Bert and Claire give you the words to ask for the type of wine you're looking for. From takeaways and snacks to Sunday lunches, home-cooked classics, cheese, and desserts, these expert wine matches are fun, affordable, and simple enough you can pop to a supermarket or local wine shop. Whether you're ordering a curry, taking a bottle to a friend's, going out for dinner, or vegging out on the sofa with a bowl of pasta, Which Wine When will turn even the most down-to-earth meal into a magical combination of what's on your plate and what's in your glass. Don't wander the wine aisle without it.
About the Author
---
Bert Blaize learned his stuff at La Belle Epoque in Manchester and Le Manoir aux Quat'Saisons, before taking the reins at the Clove Club in Shoreditch, East London, which was the UK's top-ranked restaurant in 'World's Best 50 Restaurants' for two years running. He collaborated with Dan Barber on his revolutionary WastED project when it came to London. Bert was recently named the UK's Top Young Sommelier by Flint Wines, and currently takes care of the wine at Serge et le Phoque in London's Fitzrovia. Bert's current favourite food + wine combination is apple pie + Sauternes

Claire Strickett has worked in kitchens, then restaurant marketing, publicity and recipe writing for leading chefs and restaurateurs, including Skye Gyngell, Rowley Leigh, Russell Norman, Gail's Bakery and Byron. Claire's current favourite food + wine combo is a Vietnamese salad + an off-dry Riesling. She lives in London.
Praise For…
---
'A brilliantly simple guide to give anyone instant confidence choosing wine.' —Russell Norman