To the Rescue: Geeger the Robot (QUIX) (Paperback)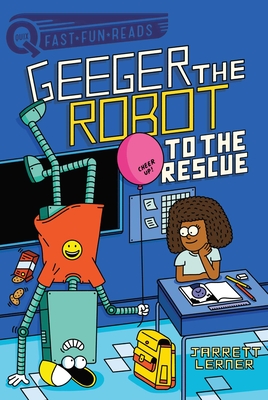 Description
---
For fans of the Bots books comes the adventures of Geeger, a robot whose best friend needs his help in the third story in a fun-to-read Aladdin QUIX chapter book series that's perfect for emerging readers!

Geeger's best friend, Tillie, is having a bad day and he wants to cheer her up. But sharing snacks and jokes aren't working. How will Geeger make Tillie smile again?
About the Author
---
Jarrett Lerner lives with his family in Massachusetts. You can visit him online at JarrettLerner.com and find him on Twitter and Instagram @Jarrett_Lerner.

Serge Seidlitz, an English/German hybrid born in Kenya, grew up traveling between the UK and Asia. A steady diet of MTV and Mad magazine fueled his desire to become an illustrator. He combines elements from popular culture with diverse influences to create work that forms an iconic and graphic language. Following his studies in graphic design at Camberwell College of Arts, Serge worked as an in-house designer at Cartoon Network before leaving to focus on illustration.