This Is a Story (Hardcover)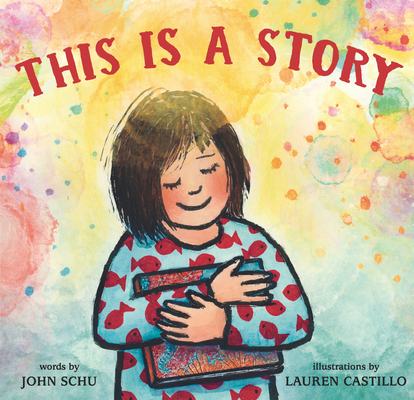 Description
---
Children's literacy advocate John Schu and Caldecott Honor recipient Lauren Castillo celebrate the power of finding the perfect book—in a story that's more relevant than ever.

This is a word on a page.
This is a page in a book.
This is a book on a shelf . . . waiting.

With a sea-horse kite in hand, a child heads out with Dad to the library. On the way they stop at a park, joining lots of people, some of whom are flying kites, too. At the library, a person toting a big pile of books hands over a story on a favorite subject: the sea horse. All around, there are readers poring over books, each with their own questions, ideas to explore, hopes for the future, and imaginations ready to spark. With a warm, lyrical text and tenderly expressive illustrations, John Schu and Lauren Castillo invite us to imagine the myriad ways that books can foster connection and understanding—and how they can empower children, through their own passions, to transform the world.
About the Author
---
John Schu is the author of This Is a School, illustrated by Veronica Miller Jamison. He is also a children's librarian at Bookelicious and a part-time lecturer at Rutgers University. He was previously the Ambassador of School Libraries for Scholastic Book Fairs and has worked as a classroom teacher and school librarian. He travels all over the world visiting schools and meeting with students, teachers, and administrators as he advocates for the people and things he cares about most: kids, books, schools, and the libraries—and librarians—that connect them. John Schu lives in Naperville, Illinois. You can find his popular blog, Watch. Connect. Read., at www.JohnSchu.com and follow him @MrSchuReads.

Lauren Castillo is the award-winning illustrator of many books for children, including Kirkus Prize finalist Imagine by Juan Felipe Herrera, Happy Like Soccer by Maribeth Boelts, and Yard Sale by Eve Bunting. She is the author-illustrator of the Caldecott Honor Book Nana in the City. Lauren Castillo dreams and draws in Harrisburg, Pennsylvania. You can find her online at www.laurencastillo.com and on social media @studiocastillo.
Praise For…
---
An homage to book and library lovers everywhere, Schu and Castillo's book takes readers on a journey that shows how words can lead to human connections. . . . Castillo uses ink, watercolor, and pastel to create a beautiful and vibrant library setting that invites everyone into the spreads. Those in the know will have fun spying illustrated covers of actual picture books. . . . A valentine to reading, books, the love of books, and the rooms that house them, this charmer will find a home in every heart.
—School Library Journal (starred review)

Starting in close and pulling back, this love letter to libraries foregrounds their gift for connecting each reader with just the right story. . . . Realistically drawn, recognizable book jackets cover the pages, creating jumping-off points and sparks of recognition in a title that's both the next best thing to an actual library visit and fine preparation for a first foray.
—Publishers Weekly

The soft illustrations, created with ink, watercolor, and pastel, suit the gentle narrative. . . [a] sweet tribute to a book's ability to create deep, lasting connections with readers.
—Kirkus Reviews

In his follow up to This Is a School, Schu presents This Is a Story—a delightful homage to the power of story, particularly those moments when that certain book lands in the hands of that certain child, when those sparks of connection lead to that sense of wonder and a desire to know more. . . As a classroom teacher, a school librarian, and the Ambassador of School Libraries for Scholastic Book Fair, Schu knows the importance of this book-reader connection. . . . Using ink, watercolor, and pastel, Caldecott Honor-recipient Lauren Castillo creates a soft, warm feeling with each illustration. . . choosing a city public library tucked in the middle of a diverse neighborhood is the perfect setting to tell this story, a story relatable to all kids.
—The New York Journal of Books