Speechless (Paperback)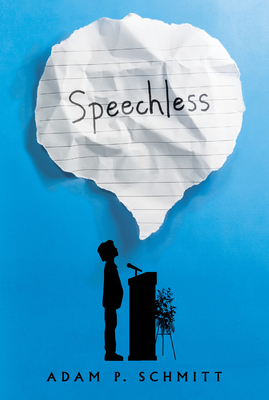 Description
---
How do you give a eulogy when you can't think of one good thing to say? A poignant, funny, and candid look at grief, family secrets, difficult people, and learning to look behind the facade.

As if being stuffed into last year's dress pants at his cousin's wake weren't uncomfortable enough, thirteen-year-old Jimmy has just learned from his mother that he has to say a few words at the funeral the next day. Why him? What could he possibly say about his cousin, who ruined everything they did? He can't recall one birthday party, family gathering, or school event with Patrick that didn't result in injury or destruction. As Jimmy attempts to navigate the odd social norms of the wake, he draws on humor, heartfelt concern, and a good deal of angst while racking his brain and his memory for a decent and meaningful memory to share. But it's not until faced with a microphone that the realization finally hits him: it's not the words that are spoken that matter the most, but those that are truly heard.
About the Author
---
Adam P. Schmitt has been a middle-school educator for more than fifteen years. Speechless is his debut middle-grade novel. He lives in Oswego, Illinois, with his wife and two sons.
Praise For…
---
"Patrick was kind of an asshole," starts Jimmy's eulogy as the novel presents its unique closure in the form of difficult truths, a lot of heart, and a refreshingly insightful voice from first-time author Schmitt.
—Bulletin of the Center for Children's Books (starred review)

Schmitt simultaneously paints a realistic picture of a close but flawed family who must navigate the sudden death of a young family member and all the feelings that come with it...A complicated, hard, and heartfelt look at a child's mental illness.
—Kirkus Reviews Online (starred review)

Honesty isn't always pretty, but it courses through Schmitt's debut in more ways than one...Complex family relationships surface with humor and candor, with adults painted as flawed and prone to delivering sharp words or even a smack. All these elements combine to make the reader as uneasy as Jimmy, who, through his recollections, gains a better understanding of the boy lying in the coffin and, ultimately, of himself.
—Booklist

The subject matter is weighty and may provoke sympathy towards children with emotional and behavioral problems. Trying to really hear and empathize with others is what is important.
—School Library Connection

Jimmy transcends speechlessness to offer an honest and unvarnished tribute. With dark comedy and raw authenticity, Schmitt captures the awkward moments of the funeral while exploring complicated family dynamics, untreated mental health issues, and family secrets.
—Publishers Weekly Online

Speechless takes material that would normally be overwhelmingly depressing and manages to make it entertaining. It's still sad, of course–Patrick's death was a colossal tragedy. But the tragedy is handled near perfectly, and it's wonderful.
—Read Till Dawn (blog)

As Jimmy attempts to navigate the odd social norms of the wake, he draws on humor, heartfelt concern, and a good deal of angst while racking his brain and his memory for a decent and meaningful memory to share. But it's not until faced with a microphone that the realization finally hits him: it's not the words that are spoken that matter the most, but those that are truly heard. A must-read for kids and adults.
—Story Monsters Ink