Gemstone Dragons 1: Opal's Time to Shine (Paperback)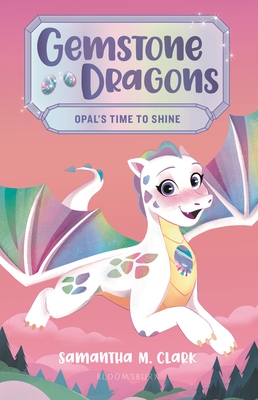 Description
---
Perfect for fans of Unicorn Princesses, this sparkly new chapter book series stars a group of adorable dragons each with their own special gemstone magic.

In an enchanted world full of magical creatures, a group of Gemstone Dragons live in Sparkle Cave deep inside Mineral Mountain. Each dragon has a unique magical power that comes from their gemstone, and while the powers are fun, sometimes they get the dragons into trouble. But there's no problem the Gemstone Dragons can't overcome by working together.

The Friendship Festival is coming up! Opal has the power of invisibility and prefers to help out behind the scenes. When she's announced as the festival speaker, she knows that she needs to find someone to take her place. Surely there's a more deserving Gemstone Dragon! But when a crisis threatens the festival, Opal has to step up to try to save the day. Could she be the perfect speaker after all?

Join this adorable group of dragons on an action-packed adventure filled with magic, friendship, and teamwork!
About the Author
---
Samantha M. Clark is the author of the middle grade novels The Boy, the Boat and the Beast (winner of the SCBWI 2019 Texas/Oklahoma Crystal Kite Award) and Arrow. She is also the author of a title in the chapter book series American Horse Tales. When she's not writing, Samantha is busy in her role as the Regional Advisor for the Austin SCBWI chapter, and coaches people in writing and marketing. She lives with her husband in Cedar Park, TX. Like the Gemstone Dragons, she knows the best power in the world is friendship.
www.samanthamclark.com
@samclarkwrites (Twitter)

Janelle O. Anderson is an illustrator who is happiest when bringing the images in her head to life. Some of her favorite things to draw are colorful mountains, sparkly waterfalls and magical creatures just like the Gemstone Dragons. She loves the outdoors and making people smile, and believes there is a little bit of magic in everyone.
Praise For…
---
"I want to live in this dazzling world where dragons fly over crystal fields, mountains hold untold magic, and friendship shines brightly even in the face of danger. A sparkling jewel of a story!" —Kamilla Benko, bestselling author of The Unicorn Quest series

"Sparkly and kind, this early chapter book shines as bright as the titular dragons' gemstones...A gentle story about how each of us has something special to give, no matter how big or small. Young dragon-lovers will devour this sweet, happy treat and look eagerly for future installments!" —Joy Preble, Children's Programming Director, Brazos Bookstore

"Along with the overt message about everyone being valuable, the theme of Opal learning how to gracefully accept appreciation from others is equally impactful; readers will enjoy this spare but relatable tale. . . . Sure to charm." —Kirkus Reviews