The Superlative A. Lincoln: Poems About Our 16th President (Hardcover)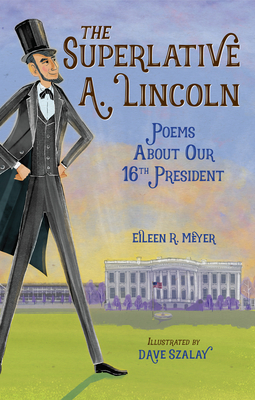 $17.99

Out Of Stock - Can Be Ordered For You. May take extra time.
Description
---
Tallest, wisest, most studious--Lincoln was simply superlative!

Get to know the personal side of Honest Abe (his LEAST FAVORITE nickname) through fresh and funny poems expressing his superlative nature.

Abraham Lincoln is famous for many extremes: he was the TALLEST president, who gave the GREATEST SPEECH and had the STRONGEST conviction. But did you know that he was also the MOST DISTRACTED farmer, the BEST wrestler, and the CRAFTIEST storyteller? Nineteen poems share fascinating stories about events in Lincoln's life, while history notes go even deeper into how he excelled. Don't forget to think of all the ways you, too, are superlative!
About the Author
---
Eileen Meyer may be one of Lincoln's BIGGEST fans. For this book, she traveled to the Abraham Lincoln Presidential Library and Museum, Lincoln's New Salem State Historic Site, the National Museum of American History, the National Portrait Gallery, and the Lincoln Memorial. Born and raised in the Land of Lincoln, Eileen and her husband now split their time between Illinois and Florida.

Dave Szalay is an illustrator, teacher, and graphic designer with a deep interest in history. While researching this book, he tried to find personal details that would humanize Lincoln--like his love of cats. Dave, his wife, and their own cats live along a stream that runs through the nearby Cuyahoga Valley National Park in Ohio. www.daveszalay.com
Praise For…
---
Telling Abraham Lincoln's story in poetry is a tall order, but Meyer pulls it off. "Come read about a legend— / the greatest of the greats; / from a poor boy in the backwoods / to a president, first-rate." The title of each celebratory poem offers a yearbook-style superlative about our 16th president: "Best Wrestler," "Best Lumberjack," "Who's Tallest?" Each poem is accompanied by a brief paragraph providing context for the poem. The rhyming poems are mostly in third person, though one is in the voice of Lincoln's stovepipe hat, and there's another from Grace Bedell, who wrote to the president encouraging him to grow a beard. The upbeat poems and string of superlatives, however, leave little room for more nuanced explanations, as in "Strongest Conviction: Signing the Emancipation," from which readers learn that Lincoln freed the slaves but not that they weren't really free yet nor that his commitment to abolition was limited. The portrait orientation of the volume is the right choice for our tall president, and Szalay's attractive, folksy art manages to capture the homespun spirit of the poems. Brown faces appear in the crowd at the Lincoln Memorial, and President Barack Obama and Frederick Douglass make appearances. The collection will make excellent reading aloud in the classroom, a few a day. A tip of the stovepipe hat for making a poetry biography so much fun.
—Kirkus Reviews

These 19 poems demythologize Abraham Lincoln. Amusing tidbits of information, like why Abe wore such a tall hat, are combined with historical footnotes. Illustrations are fun and educational. Illustrations rendered in a soft, natural palette convey a sense of Lincoln's humanity by including examples of behavior people do when they think no one is watching. An excellent use of language and recognizable rhyme schemes make this title a wonderful teaching tool for the classroom. These well-researched poems hold readers' attention and could encourage them to explore additional questions. ­VERDICT A good example of how poetry can also inform. Highly recommended for elementary schools and public libraries.
—School Library Journal


Meyer offers a sprightly, lilting poem for every milestone and legendary quality associated with the 16th president, building each tribute around a superlative title. "Best Use of an Accessory" details the president's famous hat, "Strongest Conviction" salutes the signing of the Emancipation Proclamation, while "Best Advice" recalls a letter that an 11-year-old wrote him during his presidential campaign: "You're very tall and awful thin./ You need some whiskers on your chin./ Just keep in mind the time you'll save/ when you no longer need to shave." (A short paragraph contextualizes each poem, and a concluding time line provide additional background.) Szalay's digital illustration have folk art style that fully captures the Rail Splitter's homespun charisma, while the book's portrait orientation provides plenty of opportunities to salute Lincoln's lanky stature.
—Publishers Weekly