Grow a Living Wall: Create Vertical Gardens with Purpose: Pollinators - Herbs and Veggies - Aromatherapy - Many More (Paperback)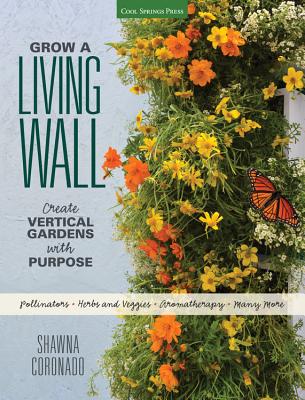 Description
---
Sometimes called "Green Walls" or "Vertical Gardens," living walls are easier than ever to plan and grow! Grow a Living Wall is the first wall-gardening book to focus exclusively on the needs of home gardeners.
Make your vertical garden environmentally friendly and sustainable. It's easy with author Shawna Coronado's help! One of her themed vertical gardens is stocked mostly with flowers to make it a haven for bees and other pollinators. Other gardens are filled with vegetables and herbs so anyone with an outdoor wall can grow their own food - beautifully!

Even more gardens promote aromatherapy or medicinal plants. Some are designed to provide a green net of air filtration near a living area, or to protect exterior walls from exposure to direct sunlight, which helps to keep the indoors cool.
In addition to the comprehensive, step-by-step information that explains the basics of vertical gardening, each of the 20 featured gardens has its own chapter filled with useful tips, stunning photography, and fascinating background stories that point out how much difference a small garden can make.

Like author Shawna herself, the gardens you'll find in Grow a Living Wall are positive, life affirming, and sure to produce a smile or two.
About the Author
---
Shawna Coronado is an author, on-camera spokesperson, newspaper columnist, internationally recognized keynote speaker, and environmental and health correspondent. She has lectured for TEDx and Google, appears regularly on US national television, and spends her time educating the online community about eco-travel, green living, sustainable gardening, inexpensive cooking, and home vegetable production—all from her very own home and ornamental front-lawn garden. Shawna's photographs and stories on organic living have been featured on HGTV.com, in Birds & Blooms magazine, and in the books The Green Garden, Grocery Gardening, The Edible Front Yard, and Garden Up!. She is the author of Cool Springs Press' Illinois Getting Started Garden Guide (2014), Indiana Getting Started Garden Guide (2014), The Wellness Garden (2017), and 101 Organic Gardening Hacks (2017). 
Praise For…
---
"In her latest garden book, proponent of green-style living, photographer, columnist, and garden lecturer Coronado (Illinois Getting Started Garden Guide; Indiana Getting Started Garden Guide) urges readers to "grow up" by using vertical space in creative and purposeful ways. Twenty themed projects employ an array of various hardscape and plant materials to create living walls. Step-by-step instructions outline plant selection, required tools and materials, and installation techniques. The colorful photos supplementing the text show that many of these compact hanging or standing gardens look like garden-show entries. A range of budgets and styles are offered. Projects may be simple, such as hanging a planted container on a gate, or more challenging, with greenery that covers a wall. Readers can choose from examples of culinary, herbal, pollinator, or aromatherapy gardens. Several plans address different environs and types of spaces--balconies, for example, or shaded areas. Each project has at least one purpose, which may be to help the environment, set a mood, embellish landscapes, or grow edibles. The author successfully demonstrates how to grow imaginative and purposeful space-saving gardens on an upright plane. VERDICT A green thumbs up! All levels of garden hobbyists and landscapers will enjoy this upbeat book." - Library Journal
"It's a fantastic book by an inspirational and creative force in the gardening world." - www.gardentherapy.ca
"...a great guide to creating a garden that everyone can look up to." - The Oregonian/Oregon Live
"Shawna Coronado explains how to make the most of a really small space: a wall. In less than 2 square feet of floor space, Coronado nurtures a tower of herbs, vegetables and flowering plants for pollinators." - Chicago Tribune
"Coronado believes gardeners are still stuck on the ground, in containers or with limited floor space. Living Wall is her guide to growing vertically - but doing it well. Take the traditional square foot garden of 1 to 16 plants in a square foot area and then duplicate and go up. Thirty-five plants + will grab only one square foot of floor space. The higher you go, the more the harvest. This is a detailed, comprehensive guide" - www.gardensmart.tv