Michigan Day Trips by Theme (Paperback)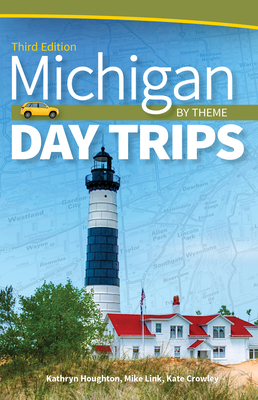 Description
---
Explore Michigan with the guide to more than 275 of the best destinations, organized by theme so you can decide what to do and then find where to do it.
Discover a multitude of unique attractions throughout the Great Lake State. This comprehensive guide is jam-packed with Michigan's top spots for fun and entertainment. Take a simple day trip, or string together a longer vacation of activities that appeal to you. Useful for singles, couples, and families--visitors and residents alike--this guide by Kathryn Houghton encompasses a wide range of interests.
Features You'll Appreciate
Sections divided by theme for easy reference--decide what to do, then figure out where to do it
Destinations based on themes such as Festivals, Lighthouses, Science Museums & Nature Centers, and Sports Tips for other things to do in the area Handy size that's perfect for traveling
You'll Find
Beaches, dunes, and waterfalls
Breathtaking settings for bird watchers and nature lovers Island destinations, ships, and shipwrecks
With Michigan Day Trips by Theme at your fingertips, you'll always have something to do
About the Author
---
Born and raised in mid-Michigan, Kathryn Houghton has spent most of her life in the Mitten State. She can't imagine living anywhere else--and not just because no one in Michigan looks at her funny when she calls it "pop" instead of "soda." It's the people that make Michigan feel like home. She teaches writing and editing at Michigan State University. She lives in Holt with her sister and three dogs.