American Firefighter (Hardcover)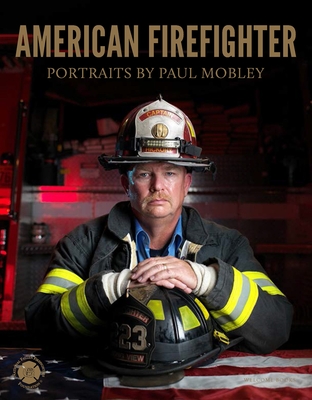 Description
---
FOREWORD INDIES Book of the Year Awards — 2017 SILVER Winner for Photography

A celebration of and tribute to our nation's courageous firefighters and first responders.

Paul Mobley has taken his camera on the road again to photograph America's bravest citizens. In this collection of intimate and powerful photographic portraits, we get a glimpse of what it means to answer the call and run toward danger. Stunning portraits of these brave men and women—chief fire officers, company and wildland crew leaders, instructors, and line-firefighters—are accompanied by firsthand accounts of those who put it all on the line, as well as stories of those firefighters who have made the greatest sacrifice of all.

American Firefighter contains the real-life stories of firefighters, from the most rural volunteers to the most sophisticated and technologically advanced metropolitan departments, and it also profiles the children and grandchildren of firefighters who have been lost in the line of duty as they honor and pursue a family legacy. This book is an excellent gift for this nation's 1.4 million firefighters and their families, for those just coming to the profession, or for any American who is intrigued to learn more about these everyday heroes.
About the Author
---
Paul Mobley is an award-winning photographer and author of Welcome's American Farmer: The Heart of Our Country and If I Live to Be 100: The Wisdom of Centenarians. JoEllen Kelly is a project manager for the National Fallen Firefighters Foundation, a nonprofit dedicated to honoring our fallen fire heroes and assisting their families and coworkers.
Praise For…
---
"Many books written about the fire service range from the tales of individuals to a broad look at the service in whole.  This pictorial account, in my opinion, is one of the best, if not the best, in paying tribute to the entire fire service… The accounts presented in American Firefighter serve as more than a benefit for the NFFF but as gentle tug that keeps us in the path of service towards others in a cause greater than ourselves." 
—Fire Rescue Magazine

"Heroes come in all shapes and sizes, but few are as important as America's first responders. These men and women choose to run toward danger while most flee. In the recently released American Firefighter, photographer Paul Mobley captures portraits of some of the country's bravest citizens—firefighters, EMTs and paramedics."
—Parade Magazine
 
"What they reveal through their words and photos will leave you with a greater appreciation for the commitment, courage, and compassion firefighters share with each other and their community." 
—Chief Ronald J. Siarnicki, Executive Director, National Fallen Firefighters Foundation

"Mobley's new book, "American Firefighter," profiles the brave, selfless men and women he met at around 50 different firehouses."
—Business Insider