A Beautiful Ghetto (Hardcover)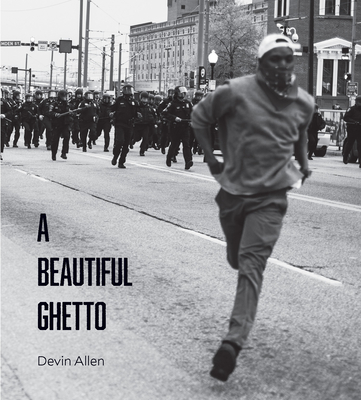 $26.95
Temporarily Out Of Stock. Usually Ships in 1-5 Days
Description
---
On April 18th, 2015, Baltimore erupted into mass protests in response to the brutal and heinous murder of Freddie Gray by the Baltimore police. Suddenly, the eyes of the world turned to Baltimore. In nearly 100 stunning black and white photos, Allen documents the uprising, his city, and the people who live there, revealing a world of love, courage, struggle and hope. Each photo reveals the personality, beauty and spirit of Baltimore and those who live there, as his camera complicates the stereotype of a "ghetto." We find smiles where one might least expect them, hope doing battle against a system that sows desperation and fear, and above all, resistance, to the unrelenting pressures of racism in twenty-first-century America.
""Allen's work demonstrates a connection between resistance as a daily activity, a way of life in the ghetto, and resistance as a political act, as played out in the streets last spring. He documents resistance without judgment, without asking the usual questions that outsiders might: Is it justified? Is it effective? Is it legal? Resistance is represented not as a tactic, but as a fundamental aspect of life."
--Washington Post
Devin Allen is one of the first amateur photographers to have their his work featured on the cover of Time magazine. His photographs have also appeared in New York Magazine, the Washington Post, the New York Times, CNN, BBC, NBC News, Aperture Magazine, and Yahoo
.
About the Author
---
Devin Allen, a Baltimore native, is only the third amateur photographer to have their photograph appear on the cover of Time. His work has also been featured in New York Magazine, the Washington Post, the New York Times, CNN, BBC, NBC News, Aperture Magazine, and "Yahoo!." Allen's photographs have been exhibited in the Smithsonian. D. Watkins is the Editor At Large for Salon. His work has been published in the New York Times, Guardian, Rolling Stone, and other publications. He holds a master's in Education from Johns Hopkins University and an MFA in Creative Writing from the University of Baltimore. He is a college professor at the University of Baltimore and founder of the BMORE Writers Project. Watkins has been the recipient of numerous awards including Ford's Men of Courage and a BME Fellowship. Watkins is from and lives in East Baltimore. He is the author of The Cook Up: A Crack Rock Memoir and The Beast Side: Living (and Dying) While Black in America