The Great Bicycle Race Mystery (Library Edition) (The Boxcar Children Mysteries #76) (CD-Audio)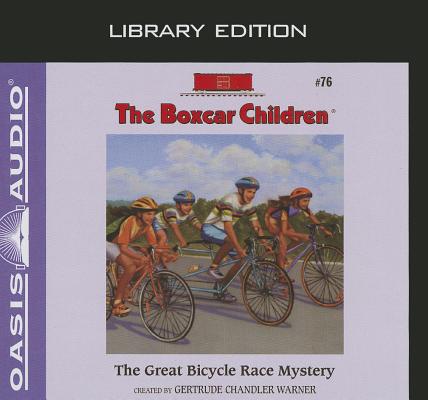 Other Books in Series
This is book number 76 in the The Boxcar Children Mysteries series.
Description
---
The Aldens have joined a bicycle race! Three days of riding and camping should be fun for everyone. Even Grandfather has joined the race. But right from the word "Go!" things go wrong: misleading road signs by day and collapsing tents by night. Henry's first flat tire could be bad luck, but three flat tires point to foul play. But who is playing foul — and why? The Boxcar Children are determined to solve the mystery before they cross the finish line.
About the Author
---
The Boxcar Children Series was created by Gertrude Chandler Warner, a teacher, when she realized that there were few, if any, books for children that were both easy and fun to read. She drew on her own experiences in writing the mysteries. As a child, she had spent hours watching trains near her home, and often dreamed about what it would be like to live in a caboose or freight car. In each story, she chose a special setting and introduced unpredictable, unusual or eccentric characters, to help highlight the Aldens' independence and resourcefulness. Miss Warner lived in Putnam, Massachusetts until her death in 1979.