The Monster Parade: A Book about Feeling All Your Feelings and Then Watching Them Go (Hardcover)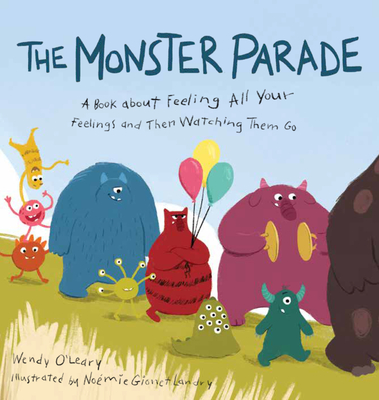 $16.95

Out Of Stock - Can Be Ordered For You. May take extra time.
Description
---
An engaging story that helps children work with difficult emotions by imagining them as playful monsters in a parade (ages 3-7).

Watch as the anger monster passes and the sadness monster disappears--it's all part of the parade of  feelings we experience every day. Instead of holding on to their emotions, kids can acknowledge them and let them go on their way.  
  
What's happening in your parade today?  
 
Here's the angry monster 
Headed this way  
It growls so loud 
But you know it won't stay
About the Author
---
WENDY O'LEARY, MEd, is a mindfulness educator and a certified meditation and yoga teacher with a long-standing personal meditation practice. Wendy's books are based on her 15-plus years of experience teaching mindfulness and skills for emotional awareness and regulation to children and "their adults." She is a certified parent educator and an online contributor to Mindful Magazine. She is the co-author of Breathing Makes It Better: A Book for Sad Days, Mad Days, Glad Days, and All the Feelings In-Between (Bala Kids, 2019).

NOÉMIE GIONET LANDRY grew up in a small coastal town of New Brunswick, Canada, surrounded by the ocean. Growing up, she was telling everyone she wanted to become either a doctor or a children's book illustrator. Midway through med school, she decided she would do both. She now shares her time between the hospital (where she works as a rheumatologist) and her home studio, where she sketches, draws, and paints surrounded by her wife, two tiny Chihuahuas, and two cats.





Praise For…
---
"This book is a charm—a delightful guide for young and old in relating to our inner parade of challenging emotions."—Tara Brach, author of Radical Acceptance
 
"A wonderful and entertaining reminder for children (and their grownups) that our feelings will always come and go!"—Chris Willard, author of Breathing Makes it Better and Growing Mindful
 
"The Monster Parade is a remarkable book to help little people with big feelings, as Fred Rodgers would say. This wonderful narrative accompanied by sweet and calming illustrations that capture children's real experiences together with practical strategies for managing difficult emotions is a great resource for classrooms, libraries and homes. Enjoy the parade!"—Dodi Swope, LMFT, Together for Kids Coalition
 
"Wendy O'Leary has a manner of writing that easily and simply connects with children and allows educators and parents to teach young ones how best to cope with moments of anguish, panic, loss, or anger. The Monster Parade continues the author's personal crusade to ask our children to try and comprehend their feelings in a mindful manner. Her work raises the emotional capacity of child and parent alike. In our store's history no author's work has garnered the praise of professionals or the enthusiasm of parents like Wendy O'Leary."—Rich Collins, Owner, Root and Press Bookstore
 
"Little kids (and big kids) can have big emotions at school, at home, anywhere.  The Monster Parade is a wonderful picture book that can help us all deal with all sorts of emotions. Whether it's your classroom or your own children at home, The Monster Parade is the perfect read aloud for kids of all ages!"—Liz Garden, Principal, Leroy E. Mayo Elementary School

"The Monster Parade is a fantastic book which introduces children to an effective and fun way of relating to their emotions with mindfulness and compassion. Children will love the engaging story as well as the beautiful illustrations. This book will be a fantastic resource for children, teachers and families and a wonderful support to children's positive mental health and wellbeing. This is an excellent book, I highly recommend it!"—Louise Shanagher, founder of Creative Mindfulness, Author and Children's Therapist
 
"An entertaining and engaging book coping with emotions and feelings through the eyes of children. Delightfully illustrated!"—Judith Niddrie, Education Professor, Early Childhood Educator
 
"The Monster Parade comes alive with words and pictures young audiences will both learn from and be enchanted by. Important messages which help children cope like, 'Feelings are just feelings…. they come and they go,' are enhanced by a cast of playful, expressive monsters. Once again, Wendy O'Leary has written a timely book for caregivers to share with kids, providing comfort and solace during the rough patches of growing up."—Cheryl Donahue, Director, Richard Sugden Library
  
"I am so excited about Wendy's new book and will definitely incorporate it into my work with preschool clients and classrooms!  The Monster Parade encourages children to recognize and accept all kinds of feelings and illustrates how they can take steps to feel better when experiencing unpleasant emotions. This book will be a great tool to help parents, educators, and clinicians to support the social-emotional learning of the children in their lives. Thank you!"—Lynne Flanagan Tsombakos, MA, LMHC, Early Childhood Clinician

"In a world where things have become ever more challenging for children, this book does a marvelous job of explaining emotions and how to work through them."—School Library Journal

"Practices for recognizing and working with difficult emotions."—Spirituality & Practice 

"We all loved the book and it led to a great discussion about our emotions, how we feel them and what we can do when we feel certain ways."—Liz, mom of two children
 
"When I feel sad, I can write down those feelings on a piece of paper and crumple it up and put it in the trash…my feelings can come and go."—Hudson, age 7
 
"When I feel happy and then I get sad, I can take 5 breaths and feel back to happy."—Nellie, age 5