Capsized!: The Forgotten Story of the SS Eastland Disaster (Hardcover)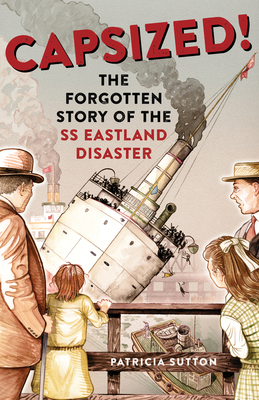 Description
---
New York Public Library's "100 Best Books for Kids" 
Kirkus Reviews' "Best Books of 2018"

2019 Society of Midland Authors Literary Award Honoree

2019 Notable Social Studies Trade Books for Young People List

2019 Cybils Literary Award Winner

A 2019 Cooperative Children's Book Center's Choice 

Wisconsin Writers Contest 2018 Winner of the Tofte/Wright Children's Literary Award

On July 24, 1915, the SS Eastland, filled to capacity with 2,500 passengers and crew, capsized in the Chicago River while still moored to the pier. Happy picnic-goers headed for an employee outing across Lake Michigan suddenly found themselves in a struggle for their lives. Trapped belowdecks, crushed by the crowds attempting to escape the rising waters, or hurled into the river from the upper deck of the ship, roughly one-third of the passengers, mostly women and children, perished that day. 
     The Eastland disaster took more passenger lives than the Titanic and stands today as the greatest loss of life on the Great Lakes. Capsized! details the events leading up to the fateful day and provides a nail-biting, minute-by-minute account of the ship's capsizing. From the courage of the survivors to the despair of families who lost loved ones, author Patricia Sutton brings to light the stories of ordinary working people enduring the unthinkable.
     Capsized! also raises critical-thinking questions for young readers: Why do we know so much about the Titanic's sinking yet so little about the Eastland disaster? What causes a tragedy to be forgotten and left out of society's collective memory? And what lessons from this disaster might we be able to apply today?
About the Author
---
Patricia Sutton is a former elementary/middle school teacher and curriculum author. She was a Golden Apple Award finalist for teacher excellence in the Chicago area and is a member of the Society of Children's Book Writers and Illustrators.
Praise For…
---
"A true disaster story rivetingly told." —Kirkus Reviews

"A badly designed ship, a careless captain, and decks jammed with 2,500 passengers are a recipe for disaster. Patricia Sutton describes the tragic launching of the SS Eastland in a dramatic, riveting narrative filled with the vivid firsthand accounts of those onboard that brings readers along on a harrowing day trip." —Jim Murphy, author of Newbery Honor titles The Great Fire and An American Plague

"A riveting page-turner sure to grab readers' attention. Patricia Sutton's well-researched Capsized! will leave you shocked, saddened, and unable to put it down."  —Kate Hannigan, author of The Detective's Assistant

"Through meticulous research and vivid prose, Sutton brings to life the little-known story of the Eastland ship disaster. Based on firsthand accounts of passengers, ship workers and bystanders, readers can experience the people and events that led to the sinking of the fastest steamship on the Great Lakes and its tragic aftermath." —Claire Rudolf Murphy, author of Gold Rush Women and Marching with Aunt Susan
 
 

"The narrative-driven account, filled with quotes from individuals and newspapers, historical photos, and trial transcripts, is engaging and accessible...Extensive source notes, which account for every quote, as well as a bibliography, round out this informative, engrossing title." — Booklist

"Capsized! is an excellent book for historical research and highly recommended for both middle and high school libraries." — KidsReads