The Storied Life of A. J. Fikry: A Novel (Hardcover)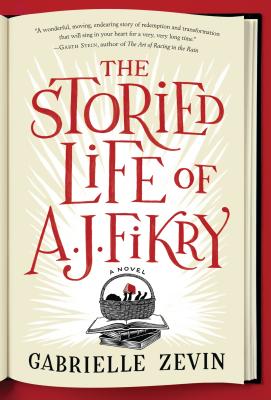 Staff Reviews
---
A.J. Fikry is the owner of a bookshop on a fictional New England
island, a tourist destination in the summer and a lonely small town all
the rest of the year.  After the sudden death of his young wife, A.J.
has successfully kept most people out of his life, but when his new
publisher's rep makes an optimistic attempt at helping his business, the
walls start to come tumbling down.  His last precious possession is
stolen.  A child is abandoned in his store.  And Island Books takes on a
whole new meaning for A.J. and the town.
This is a love letter to the world of books, written by an
experienced author with a knack for tying characters together.  Each
chapter begins with A.J.'s notes on a piece of literature important to
him, a hook that becomes more important as the story goes on. If you've
ever wondered what it's like to run a bookstore, or grow up with one,
this is one you can't miss.
— Ginny – Anderson's Bookshop Naperville
I loved reading this charming story that blooms around Island Books,
which stands a few steps from where the ferry docks on a
Martha's-Vineyard-like island.  You have love and romance, heartbreak
and bereavement, an abandoned babe and a philandering husband.  But the
real subject is LIFE, the big picture, and what it all amounts to . . .
that we all crave connection.  That's where the books come in!
— Sue B. – Anderson's Bookshop Naperville
Description
---
Don't miss Gabrielle Zevin's new novel, Young Jane Young, coming in August 2017.

A New York Times Bestseller, a #1 Indie Next Pick, and a #1 LibraryReads Selection

"This novel has humor, romance, a touch of suspense, but most of all love--love of books and bookish people and, really, all of humanity in its imperfect glory." —Eowyn Ivey, author of The Snow Child

A. J. Fikry, the irascible owner of Island Books, has recently endured some tough years: his wife has died, his bookstore is experiencing the worst sales in its history, and his prized possession--a rare edition of Poe poems--has been stolen. Over time, he has given up on people, and even the books in his store, instead of offering solace, are yet another reminder of a world that is changing too rapidly. Until a most unexpected occurrence gives him the chance to make his life over and see things anew. 

Gabrielle Zevin's enchanting novel is a love letter to the world of books--an irresistible affirmation of why we read, and why we love.

"Readers who delighted in Mary Ann Shaffer and Annie Barrows's The Guernsey Literary and Potato Peel Pie Society, Rachel Joyce's The Unlikely Pilgrimage of Harold Fry, and Jessica Brockmole's Letters from Skye will be equally captivated by this adult novel by a popular YA author about a life of books, redemption, and second chances. Funny, tender, and moving." —Library Journal, starred review

"Wade into summer reading with this sweet yet soulful tale of love, loss, the power of friendship--and books. Like sunshine on a breezy spring day, you won't want it to end." —Family Circle

"Zevin perfectly captures the joy of connecting people and books . . . Filled with interesting characters, a deep knowledge of bookselling, wonderful critiques of classic titles, and very funny depictions of book clubs and author events, this will prove irresistible to book lovers everywhere." —Booklist

"Zevin is a deft writer, clever and witty." —Publishers Weekly

"A wonderful, moving, endearing story of redemption and transformation that will sing in your heart for a very, very long time." —Garth Stein, author of The Art of Racing in the Rain
About the Author
---
Gabrielle Zevin is a New York Times bestselling author whose books have been translated into more than thirty languages. Her eighth novel, The Storied Life of A. J. Fikry, spent more than four months on the New York Times Bestseller list, reached #1 on the National Indie Bestseller list, and has been a bestseller all around the world. She has also written books for children and young adults, including the award-winning Elsewhere.
Praise For…
---
"Zevin has done something old-fashioned and fairly rare these days. She has written an entertaining novel, modest in its scope, engaging and funny without being cloying or sentimental. On top of all that, it is marvelously optimistic about the future of books and bookstores and the people who love both." —The Washington Post

"This novel has humor, romance, a touch of suspense, but most of all love--love of books and bookish people and, really, all of humanity in its imperfect glory." —Eowyn Ivey, author of The Snow Child

"[A] jaunty little novel." —Entertainment Weekly

"Wade into summer reading with this sweet yet soulful tale of love, loss, the power of friendship--and books. Like sunshine on a breezy spring day, you won't want it to end." —Family Circle

"The Storied Life of A. J. Fikry reminds us what saves us all from a life of loneliness and isolation: our sense of empathy; our ability to love and be loved; our willingness to care and be cared for. Gabrielle Zevin has written a wonderful, moving, endearing story of redemption and transformation that will sing in your heart for a very, very long time." —Garth Stein, author of The Art of Racing in the Rain

"Readers who delighted in Mary Ann Shaffer and Annie Barrows's The Guernsey Literary and Potato Peel Pie Society, Rachel Joyce's The Unlikely Pilgrimage of Harold Fry, and Jessica Brockmole's Letters from Skye will be equally captivated by this adult novel by a popular YA author about a life of books, redemption, and second chances. Funny, tender, and moving, it reminds us all exactly why we read and why we love." —Library Journal, starred review

"A beautiful story about getting a second chance at love. A-" —The A. V. Club

"The Storied Life of A. J. Fikry is a breezy, big-hearted treat, especially if you've ever wondered about the inner workings of America's national treasures--neighborhood bookstores." —Jami Attenberg, author of The Middlesteins

"In this sweet, uplifting homage to bookstores, Zevin perfectly captures the joy of connecting people and books . . . Filled with interesting characters, a deep knowledge of bookselling, wonderful critiques of classic titles, and very funny depictions of book clubs and author events, this will prove irresistible to book lovers everywhere." —Booklist

Coverage from NPR