Let Them Eat Dirt: How Microbes Can Make Your Child Healthier (Paperback)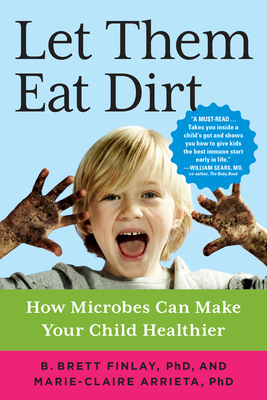 Description
---
"A must-read . . . Takes you inside a child's gut and shows you how to give kids the best immune start early in life." —William Sears, MD, coauthor of The Baby Book

Like the culture-changing Last Child in the Woods, here is the first parenting book to apply the latest cutting-edge scientific research about the human microbiome to the way we raise our children.

In the two hundred years since we discovered that microbes cause infectious diseases, we've battled to keep them at bay. But a recent explosion of scientific knowledge has led to undeniable evidence that early exposure to these organisms is beneficial to a child's well-being. Our modern lifestyle, with its emphasis on hyper-cleanliness, is taking a toll on children's lifelong health.

In this engaging and important book, microbiologists Brett Finlay and Marie-Claire Arrieta explain how the trillions of microbes that live in and on our bodies influence childhood development; why an imbalance of those microbes can lead to obesity, diabetes, and asthma, among other chronic conditions; and what parents can do--from conception on--to positively affect their own behaviors and those of their children. They describe how natural childbirth, breastfeeding, and solid foods influence children's microbiota. They also offer practical advice on matters such as whether to sterilize food implements for babies, the use of antibiotics, the safety of vaccines, and why having pets is a good idea. 

Forward-thinking and revelatory, Let Them Eat Dirt is an essential book in helping us to nurture stronger, more resilient, happy, and healthy kids. 
About the Author
---
B. Brett Finlay, PhD, is professor of microbiology at the University of British Columbia and a world leader in how bacterial infections work. He has been studying microbes for over thirty years and has published over four hundred and fifty articles. Also a founder of the biotech companies Inimex, Vedanta, and Microbiome Insights, Brett is Officer of the Order of Canada--the highest Canadian civilian recognition. He lives in Vancouver, BC, with his wife, who is a pediatrician, and has two grown-up kids.

Marie-Claire Arrieta, PhD, has been studying how intestinal alterations lead to several immune diseases since 2007. She has worked in the Finlay lab as a postdoctoral fellow for four years. During that time she has established herself as an outstanding researcher in the field of microbiota. Claire has combined her knowledge of microbes and immunology to lead a major clinical study on the role of the microbiota in asthma. She played a central role in building the bioinformatics techniques needed to analyze the microbiota from these clinical studies and has demonstrated that certain species of the intestinal microbiota from three-month-old children determine whether that child will succumb to asthma later in life. This seminal finding is a major reason for this book, as scientists in many other fields are now starting to realize that the early life microbiota plays a major role in diseases that present many years later. A mother of two, Claire is a tireless advocate of using scientific knowledge to improve the health of children.
Praise For…
---
"A must-read for parents, teachers and any healthcare provider for children, Let Them Eat Dirt takes you inside the inside tract of a child's gut, and shows you how to give kids the best immune start early in life." —William Sears, MD, coauthor of The Baby Book

"I loved this book." —Dr. Richard Besser, Chief Health and Medical Editor at ABC News

"With the quiet weight of their authority, pioneer researchers Brett Finlay and Claire Arrieta help parents to understand the real nature of microbes, and then to act to improve their children's health." —Martin Blaser, author of Missing Microbes

"This book might change your perspective on real cleanliness . . . and along the way help you to raise healthier kids." —Giulia Enders, author of Gut

"As a parent and a microbiologist, I appreciated the up-to-date and actionable science that Let Them Eat Dirt highlights, including the groundbreaking work conducted in the authors' own lab. As a Professor of Pediatrics, I appreciated the accessible format and writing style that makes this wealth of information and its limitations easy to understand for the increasing crowd parents who are concerned about their children and their growing microbiomes. Let Them Eat Dirt gives an entertaining, engaging and accurate view of what we're discovering about the microbiome and why it matters for you and your children." —Rob Knight, Professor of Pediatrics and Computer Science Engineering, and Director, Center for Microbiome Innovation, UC San Diego, and author of Follow Your Gut: The Enormous Impact of Tiny Microbes

"What a triumph. This book should be read by every pregnant woman, every parent, every pediatrician. It's not just a great read but terribly important." —Professor Margaret McFall-Ngai, Member of the National Academy of Sciences and Director of Pacific Biosciences Research Center, University of Hawaii.

"Great book! Very clear, down to earth, and interesting; it reads like a story! Let Them Eat Dirt takes an important and complex subject and makes it less scary." —Eran Elinav, M.D., Ph.D., Principal Investigator,  Host-microbiome Interaction Research Group at the Weizmann Institute of Science and Senior Fellow, Canadian Institute For Advanced Research

 "Solid, easily assimilated evidence showing how microbes are an integral part of a child's healthy life." —Kirkus Reviews

"Finlay and Arrieta explain, in illuminating detail, the importance of the gut microbiome…They hope to restore the powerful benefits of microbe transfer from the environment to the young child, benefits lost as a side effect of efforts to reduce infectious disease risk and of cultural attitudes that conflate dirt with disease….The focus on practical choices before and during birth makes this book a good resource for expectant parents." —Publishers Weekly

"A must-read for parents, teachers and any healthcare provider for children, Let Them Eat Dirt takes you inside the inside tract of a child's gut, and shows you how to give kids the best immune start early in life." —William Sears, MD, coauthor of The Baby Book

"I loved this book." —Dr. Richard Besser, Chief Health and Medical Editor at ABC News

"With the quiet weight of their authority, pioneer researchers Brett Finlay and Claire Arrieta help parents to understand the real nature of microbes, and then to act to improve their children's health." —Martin Blaser, author of Missing Microbes

"This book might change your perspective on real cleanliness . . . and along the way help you to raise healthier kids." —Giulia Enders, author of Gut

"As a parent and a microbiologist, I appreciated the up-to-date and actionable science that Let Them Eat Dirt highlights, including the groundbreaking work conducted in the authors' own lab. As a Professor of Pediatrics, I appreciated the accessible format and writing style that makes this wealth of information and its limitations easy to understand for the increasing crowd parents who are concerned about their children and their growing microbiomes. Let Them Eat Dirt gives an entertaining, engaging and accurate view of what we're discovering about the microbiome and why it matters for you and your children." —Rob Knight, Professor of Pediatrics and Computer Science Engineering, and Director, Center for Microbiome Innovation, UC San Diego, and author of Follow Your Gut: The Enormous Impact of Tiny Microbes

"What a triumph. This book should be read by every pregnant woman, every parent, every pediatrician. It's not just a great read but terribly important." —Professor Margaret McFall-Ngai, Member of the National Academy of Sciences and Director of Pacific Biosciences Research Center, University of Hawaii.

"Great book! Very clear, down to earth, and interesting; it reads like a story! Let Them Eat Dirt takes an important and complex subject and makes it less scary." —Eran Elinav, M.D., Ph.D., Principal Investigator,  Host-microbiome Interaction Research Group at the Weizmann Institute of Science and Senior Fellow, Canadian Institute For Advanced Research

 "Solid, easily assimilated evidence showing how microbes are an integral part of a child's healthy life." —Kirkus Reviews

"Finlay and Arrieta explain, in illuminating detail, the importance of the gut microbiome…They hope to restore the powerful benefits of microbe transfer from the environment to the young child, benefits lost as a side effect of efforts to reduce infectious disease risk and of cultural attitudes that conflate dirt with disease….The focus on practical choices before and during birth makes this book a good resource for expectant parents." —Publishers Weekly