Proxy (Prebound)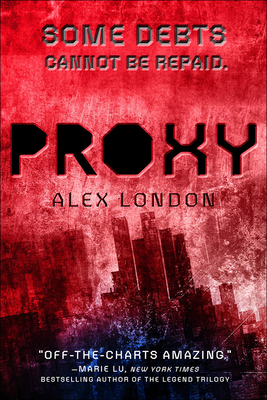 Staff Reviews
---
In Syd's world, if you're in debt, you have a patron. And when that
patron does something wrong, it's you who takes the punishment. And
when Syd's patron Knox gets into a car accident that kills the girl he's
with, it's Syd who is sentenced to death. And when he escapes, he runs
into Knox–his patron. And Knox finds out that the girl killed in the car
accident never died…
In this great dystopian novel, Alex London provides a fantastic read
for anyone of any age. With characters that are dynamic and a story that
is enthralling, Proxy is one you do NOT want to miss!
— Rachel - Anderson's Bookshop Naperville
Description
---
"Put down what you're doing and read this book. Right now. The complex characters, intricate world, and blistering pace are off-the-charts amazing." --Marie Lu, author of the Legend trilogy
Syd's life is not his own. As a proxy he must to pay for someone else's crimes. When his patron Knox crashes a car and kills someone, Syd is branded and sentenced to death. The boys realize the only way to beat the system is to save each other so they flee. The ensuing cross-country chase will uncover a secret society of rebels, test the boys' resolve, and shine a blinding light onto a world of those who owe and those who pay.
This fast-paced thrill ride of a novel is full of breakneck action, shocking twists and heart-hammering suspense that will have readers gasping until the very last page.
This edition includes a exclusive bonus story featuring Syd and Knox
"Looking for an awesome YA summer read? Look no further than Alex London's "Proxy."" --EW.com
""Whipping Boy" + "Blade Runner" with a sprinkling of "The Hunger Games" (plus, of course, a dash of "A Tale of Two Cities") = a treat for teen SF fans." --"Kirkus Reviews.
About the Author
---
Alex London writes books for adults, children and teens. At one time a journalist who traveled the world reporting from conflict zones and refugee camps, he now is a full time novelist living in Brooklyn. You can visit Alex London at www.calexanderlondon.com