Everyday Mantras: 365 Affirmations for Happiness, Strength, and Peace (Hardcover)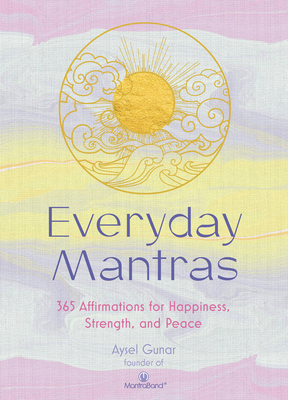 Description
---
Tap into your best self and find ways to express your true divine nature with a year's worth of seasonal mantras.
The goal of awakening your soul's purpose is not an easy one, but these thoughtful mantras place it squarely within your reach. Whether you are a beginner or a seasoned practitioner,
Everyday Mantras
will help you realign your focus and
make the next year one filled with awakened awareness
.
Aysel Gunar of Mantraband guides you through the months with
seasonally themed mantras to help you tune in to the world around you
and find better grounding in yourself, including:
Stay in the moment.
Friendship is a celebration.
Look for truth.
Your choices shape you.
Build yoru patience.
Let their be quiet.
And more!
With a year's worth of mantras, there's something for everyone's personal journey toward self-fulfillment and personal transformation. 
Everyday Mantras
is
your hands-on manual for finding peace and presence in today's stressful world
. We are all agents of love and creators of positive change. By focusing on our divine purpose every day, we can all help provide for the greater human collective.
The perfect follow-up to
Find Your Mantra
—
Everyday Mantras
provides a daily ritual to guide you through the year with ease and grace.
About the Author
---
Aysel Gunar is on a mission to inspire and empower with positive messages; because positive thinking and mindfulness lead to a better life. That's what we want for ourselves and everyone else on this planet. She does this by promoting a lifestyle of optimism, positivity, and mindfulness. She is the author of Find Your Mantra and founder of MantraBand, jewelry that is made to inspire. These positive affirmations are the reminders to choose happiness, to live the life you love, and be present in every moment.