New World Sourdough: Artisan Techniques for Creative Homemade Fermented Breads; With Recipes for Birote, Bagels, Pan de Coco, Beignets, and More (Hardcover)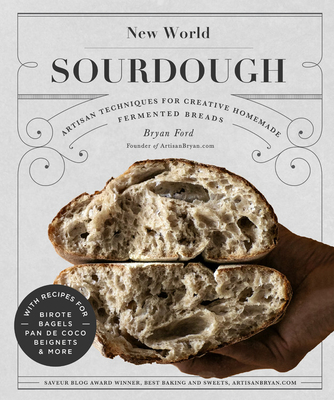 Description
---
Best-selling cookbook New World Sourdough is your go-to guide to baking delicious, inventive sourdough breads at home.

Learn how to make a sourdough starter, basic breads, as well as other innovative baked goods from start to finish with Instagram star Bryan Ford's (@artisanbryan) inviting, nontraditional approach to home baking. With less emphasis on perfecting crumb structure or obsessive temperature monitoring, Ford focuses on the tips and techniques he's developed in his own practice, inspired by his Honduran roots and New Orleans upbringing, to ensure your success and a good return on your time and effort.

Ford's recipes include step-by-step instructions and photographs of all of the mixing, shaping, and baking techniques you'll need to know, with special attention paid to developing flavor as well as your own instincts. New World Sourdough offers practical, accessible techniques and enticing, creative recipes you'll want to return to again and again, like:
Pan de Coco
Ciabatta
Pretzel Buns
Challah
Focaccia
Pizza dough
Cuban Muffins
Pita Bread
Flour Tortillas
Queen Cake
Straightforward and unintimidating, New World Sourdough will get you started with your starter and then inspire you to keep experimenting and expanding your repertoire.
About the Author
---
Bryan Ford is a bread baker from New Orleans who is known for experimenting with baking techniques. Bryan infuses his passion for his Latin American culture into his recipes on his popular blog Artisan Bryan (artisanbryan.com) and Instagram (@artisanbryan). Viewed in over 100 countries, Ford is especially known for his sourdough pan de coco recipe, inspired by a traditional Honduran bread. Bryan is currently the Head Baker of the Ironside Bakery, an artisanal bakery that focuses on using local, seasonal ingredients and organic grains to make rustic sourdough breads and viennoiserie.
Praise For…
---
"Ripping sourdough in half is an apt metaphor for what Ford has accomplished with his first cookbook—refusing the tidy cross section dismantles the idea that all bread should have the same polished aesthetic qualities and be perfectly curated for Instagram. But maybe a better way of putting it would be to say that Ford's New World Sourdough is taking the concept of sourdough and burning it all down." 
- Taste Magazine
—
-
"Since they couldn't break bread with friends during a pandemic, enthusiastic home bakers everywhere turned to making their own. Bryan Ford's blog Artisan Bryan and his New World Sourdough cookbook became the go-to guides. The perfect recipe? Flour, warm water and patience."
- People
—
-
"With his book, Ford sets out to clear up the notion that sourdough means the overly engineered Tartine loaf. It can be that. But it can also be any naturally leavened bread, like pan de coco baked in Honduras with naturally occurring yeasts."
- Epicurious
—
-
"With the help of Bryan Ford, sourdough will never be boring again. Even for those uninterested in baking, Ford's story holds lessons about reaching for a passion while staying grounded by your root."
- Study Breaks
—
-
"Bryan brings so much heart, soul, and terroir to his bread baking. Each loaf tells a story and I can't wait to bring those stories to life in my own kitchen."
- Joy Wilson, Joy the Baker
—
-
"'The ease of bread baking seems to be a sudden revelation, but people have been baking bread for thousands of years,' says baker Bryan Ford, author of New World Sourdough. 'When a crisis sets in, we resort to our primal instincts which involve making our own food. My blog traffic is through the roof.'"
- Forbes
—
-
"New World Sourdough honors Ford's Central American roots with sourdough-based recipes for semitas de yema, pan de coco and flour tortillas made with coconut milk."
- Huffington Post
—
-
"New World Sourdough is Ford's exploration of making breads from North, Central, and South America with natural fermentation, but it's also an opening volley against a stale idea of what artisan bread should be."
- Food & Wine
—
-
"Ford's cookbook, New World Sourdough, is full of deep expertise that answers many of these questions, but it's also an unusually warm, friendly invitation to making sourdough bread, a subgenre of the baking world that isn't known for being so inclusive and approachable."
- The New York Times Magazine
—
-
"His recipes are refreshingly straightforward—eschewing complicated jargon for easy-to-follow instructions—and once you've mastered the simplest of breads, you can level up to breads you may have previously thought were not possible to make at home."
- Chowhound
—
-
"If you've thought about baking your own sourdough, New World Sourdough by Bryan Ford is here to simplify the process. With practical tips and techniques, you will feel empowered and excited to dive into the wide variety of baked goods, from warm pita to sweet brioche."
- POPSUGAR
—
-