Savage Love from A to Z: Advice on Sex and Relationships, Dating and Mating, Exes and Extras (Hardcover)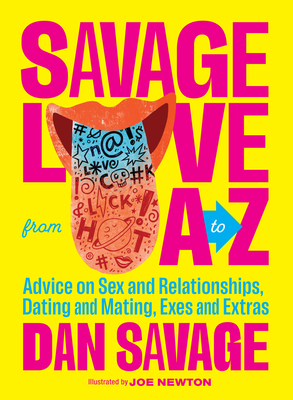 Description
---
America's premier sex advice columnist takes on edgier-than-ever sex-positive topics with his signature candor in his first illustrated collection of adults-only essays, coinciding with the 30th anniversary of the Savage Love column.

Dan Savage has been talking frankly about sex and relationships for 30 years, and has built an international following thanks to his sex-positive Savage Love column and podcast. To celebrate this milestone comes Savage Love from A to Z, an illustrated collection of 26 never-before-published essays that provides a thoughtful, frank dive into Savage's trademark phrases and philosophies. This hardcover book is for anyone who's had sex, is currently having sex, or hopes to have sex!

Essays cover a variety of topics:

B Is for Boredom
F Is for Fuck First
G Is for GGG (Good Giving Game)
M Is for Monogamish

Whether he's talking about issues like compatibility or specific sex acts, you can be sure he's giving it to you straight. Short excerpts from his classic columns kick off each essay and cheeky illustrations by his longtime collaborator Joe Newton complement the topic at hand. Savage has moved the needle toward a more open discourse around sex, relationships, and intimacy, and this book will both inspire and inform his legions of fans. An ideal stocking stuffer!
About the Author
---
Dan Savage is an author, media pundit, journalist, and LGBT community activist. He writes Savage Love, an internationally syndicated relationship and sex advice column, and hosts the popular Savage Lovecast. He is the author of several books including The Kid, It Gets Better, The Commitment, Skipping Toward Gomorrah, American Savage, and Savage Love. In 2010, Savage and his husband, Terry Miller, began the It Gets Better Project to help prevent suicide among LGBT youth. He founded the HUMP! annual film festival in 2005, which showcases home-movie erotica, amateur sex cinema, and locally produced pornography.

Joe Newton is an artist, graphic designer, and art director. His illustrations have appeared in publications like the New York Times, Vibe and Nickelodeon magazine, and for clients like Sony Music and Publicis. His work has been honored by American Illustration, Communications Arts, and Print magazine.
Praise For…
---
"Thirty years later, the [Savage Love] column is still going strong, running in newspapers all over the world — plus [Savage] hosts a podcast and has written several books. [He] has become a cultural force in the world of LGBT rights, sex, love and relationships. He has coined new words and ideas for how to be intimate and adventurous, and how to redefine commitment as relationships evolve."
—The Washington Post

"The book is a victory lap for a writer who has personally made a huge swath of Americans better people and better lovers—less judgmental, more communicative, more generous."
—Slate

"The format looks slight, but Savage's alphabetized essays — R is for rejection, B is for bondage and so on — allows for left turns and direct talk that rarely avoids the big picture of every permeation of relationship."
—Chicago Tribune

"Illustrated by frequent collaborator Joe Newton, Savage's latest book is an extension of his belief that great sex starts with great communication."
—Lavender