Murder in the News: An Inside Look at How Television Covers Crime (Hardcover)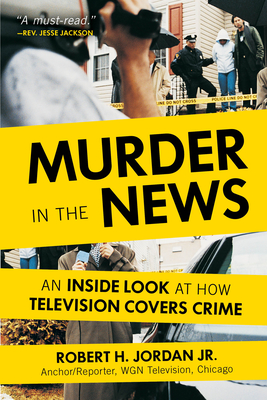 Description
---
A veteran, Emmy Award-winning TV news anchor provides a unique insider glimpse into the newsroom revealing how murder cases are selected for TV coverage.

Television news anchor Robert Jordan Jr. draws from forty-seven years of news experiences to provide an eye-opening look at how news programs decide which murders to cover and which ones to ignore. Jordan takes readers behind the scenes into the big city newsrooms of Chicago. Here split-second decisions are made on where to send limited resources when dozens of shootings and several murders are occurring on a daily basis.

Using interviews from decision makers--such as assignment editors and producers--who work daily in the trenches of working newsrooms, the reader learns how they decide where to send reporters; when to dispatch live trucks; and how the stories will be treated as they are placed in the news programming. Why will one story get "breaking news" banners and be placed at the top of the broadcast while others may not make the air at all or may be given casual mention in later segments?

Additionally, Jordan reveals the results of a ground-breaking questionnaire sent to producers and assignment editors at Chicago television stations to assess their rationales for covering murder stories the way they do. 

Finally, he examines how the explosion of social media platforms has changed the dynamic of reporting the news and why murders are the perfect stories for television, as news organizations struggle to survive.
About the Author
---
Robert H. Jordan Jr. is an Emmy Award-winning weekend anchor for WGN-TV's News at Five & Nine in Chicago. He also produces, writes, and reports stories for the weekday and weekend news as a reporter. In addition, his stories have aired on CNN and many Tribune stations across the country. During a journalism career spanning over forty years, Jordan has seen and reported on all types of murder cases--domestic squabbles to mass murderers--serial killers to gangland hits, revenge killings to street-gang turf wars. Besides his long career with WGN-TV, Jordan has covered stories for the CBS Evening News with Walter Cronkite and also written articles for the Chicago Tribune, including an award-winning article on surviving prostate cancer. He is the founder and owner of a video production company, Video Family Biographies. He holds a PhD in Educational Leadership & Policy Studies from Loyola University in Chicago.
Praise For…
---
"Murder in the News is a must-read, especially now when crime and punishment, violence and addiction are once again dominating news coverage in Chicago and other cities—big and small—across the country. The book provides crucial context for the scourge and sorrow and how the media handles and mishandles the story every evening at six. I've known and admired Robert H. Jordan Jr. for decades as a fair, honest, and courageous journalist. Murder in the News shows he has not changed a bit."

—Rev. Jesse Jackson


"'If it bleeds it leads' doesn't mean what it used to. Jordan deftly examines how violent crime and murders are covered by television news and how some victims' families may feel that their loved ones have been forgotten. His book successfully pulls the curtain back on news coverage."
 
—Jeff Pegues, CBS News correspondent and author of Black and Blue


"There is no better source on television news in Chicago than Robert H. Jordan Jr., no one more seasoned, astute, and compassionate. Murder in the News is an insightful must-read for both the consumers of the news and those of us who endeavor to cover these fascinating stories."

—John Quiñones, ABC News anchor and correspondent


"Jordan combines academic rigor with narrative finesse. His firsthand analysis pinpoints the incentives that drive local TV news coverage and how they inadvertently promote public indifference to the daily calamity of murder in the black ghetto. The good news is that Jordan identifies remedies that can reduce the scope of the tragedy befalling Chicago and other US cities."
 
—Andrew Rojecki, coauthor of The Black Image in the White Mind, and associate professor of communication at the University of Illinois at Chicago