Design Any Disaster: The Revolutionary Blueprint to Master Your Next Crisis or Emergency (Hardcover)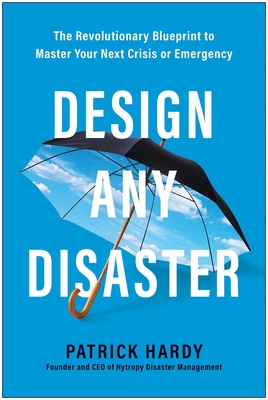 Description
---
Never experience a disaster again—ever.
Hurricanes, wildfires, mass shootings, and pandemics are a reality for 21st century families and small businesses. But here's the truth:
Not one of these has to be a disaster
.
What determines whether an unexpected event becomes a disaster is
you
.
In
Design Any Disaster
, certified emergency manager and master business continuity practitioner Patrick Hardy reveals to you the secrets of disaster preparedness that helped him build the largest and most successful small business and family disaster planning company in the world.
He explains why:
You should never, ever "remain calm" during a disaster.
99% of all disaster plans are a complete waste of time.
Fancy disaster equipment and supplies actually leave you less prepared.
Design Any Disaster
is not a survival manual. It's a revolutionary approach to disaster preparedness, response, and recovery for families and small businesses that can be used whether you live in the middle of a big city, in a quiet suburban neighborhood, or in a rural county with more cows than people.
Using the powerful C3 Method Hardy uses with his clients, from Fortune 500 CEOs to average families, you will discover how to get
ready
(plan effectively),
react
(focus without panicking),
respond
(protect yourself and your possessions), and
recover
(overcome swiftly). And in a revolutionary section you will not find in any other disaster book, Hardy also reveals how to
reverse
disaster, converting the experience into an opportunity to become wiser and happier.
Control the disaster so that it doesn't control you—that's how you
Design Any Disaster
.
About the Author
---
Patrick Hardy is founder and CEO of Hytropy Disaster Management™, the largest and most successful small business and family disaster management company in the US. A Certified Emergency Manager®, Certified Risk Manager®, Master Business Continuity Professional®, and FEMA Master of Exercise®, he has extensive experience working in the public, private, and nonprofit sectors in disaster management from micro-businesses to Fortune 500 companies. He also works with families from high-net-worth celebrities to CEOs to nonprofits.

Hardy is recognized as the foremost expert in disaster preparedness in over a dozen industries, having invented plans now considered best practice. A graduate of FEMA's Advanced Academy, he sits as the National Commercial Sector Chief for the FBI's public–private partnership, Infragard, and is a board member for the ARISE-US Network, which is the US chapter of the ARISE Global network established by the United Nations Office for Disaster Risk Reduction (UNDRR).

Hardy has been cross-trained and certified in emergency medical response, hazardous materials, emergency communications, Homeland Security policy, and terrorism. Hardy began his career in EMS ambulance first response, eventually becoming a visiting instructor to the National EMS Academy's paramedic program, and wrote the chapters on disaster preparedness, terrorism, and weapons of mass destruction for the new Advanced Emergency Medical Technician Textbook for use in the US National Curriculum.