Road Trip USA (25th Anniversary Edition): Cross-Country Adventures on America's Two-Lane Highways (Paperback)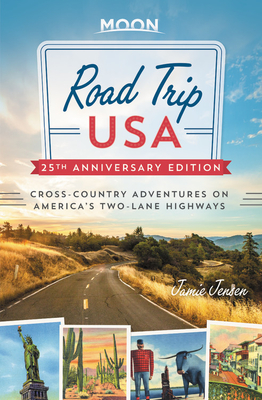 $29.99

Out Of Stock - Can Be Ordered For You. May take extra time.
Description
---
Criss-cross the country on America's two-lane highways with the 25th anniversary edition of the ultimate guide to the classic road trip. InsideRoad Trip USA you'll find:
11 routes through the heart of America, color-coded and extensively cross-referenced to allow for hundreds of possible itineraries
Mile-by-mile highlights celebrating the best of Americana, including roadside curiosities, parks, diners, and the local history and personality that makes each small town and big city unique
Over 125 streamlined maps covering more than 35,000 miles of two-lane American blacktop
Full-color photos and illustrations of America both then and now
Expert advice from road-warrior Jamie Jensen, who sped along nearly 400,000 miles of highway in search of the perfect stretches of pavement
Insight into the great American road trip, as well as resources, history, and fun facts along the way
Hit the road, roll down the windows, and discover the soul of the country with Road Trip USA.
About Moon Travel Guides: Moon was founded in 1973 to empower independent, active, and conscious travel. We prioritize local businesses, outdoor recreation, and traveling strategically and sustainably. Moon Travel Guides are written by local, expert authors with great stories to tell—and they can't wait to share their favorite places with you.
For more inspiration, follow @moonguides on social media.
About the Author
---
Growing up along Route 66 in Southern California, Jamie Jensen was immersed in road trip culture at an early age. Back then, freeways were new, cheeseburgers cost a quarter, and every beach had a waterfront amusement park. Family road trips to national parks and historic sites nurtured an appreciation of the USA's distinctive natural landscapes, one-of-a-kind attractions, and unexpected local traditions. A summer break from studying architecture in college turned into a two-year odyssey driving, hiking, biking, and hitch-hiking all over the continent. Odd jobs became unforgettable experiences. He made hay in the summer heat of the Midwest, crewed sailboats from Cape Cod to Chesapeake Bay, and tuned guitars in a Manhattan recording studio. A fondness for old road maps and a chance encounter with the 1930s WPA Guides led to an obsessive exploration of the two-lane highways that preceded today's interstate freeways. To spread the word about small-town businesses surviving in the face of anonymous "big box" chain stores and sprawling suburbs, Jamie set to work on Road Trip USA, which first appeared in 1996. Since that prehistoric era of paper maps and pay phones, technology has brought once-distant places ever closer. New generations have been busy reviving old gas stations as microbreweries and turning historic warehouses into farmers markets. Meanwhile, parenting his twin sons Tom and Alex provided Jamie with a good excuse for enjoying minor league baseball games, studying historic plaques, and taking silly photos of roadside dinosaurs and supersized Paul Bunyans. After a half-million miles spent in search of the perfect stretch of two-lane blacktop, the joy of discovery remains strong. Jamie still feels that sense of adventure every time he gets behind the wheel and heads out on the road.