Challenge Accepted!: Activities for Kids to Unplug and Get Creative (Mindfulness Coloring Book, Puzzles) (Paperback)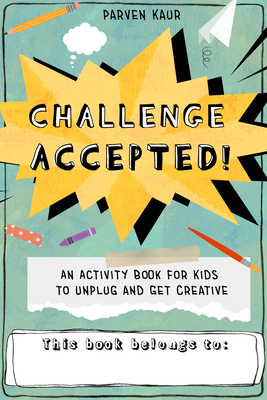 $14.95

Temporarily Out Of Stock - Can Be Ordered For You, Takes Extra Time.
Description
---
Help Your Kids Unplug and Challenge Their Creativity with Fun Things To Do (Ages 6-8)
"Parven Kaur is a mom and writer who focuses on Internet safety and digital literacy. Her blog, Kids N Clicks offers sound advice and recommendations on all things related to digital and screen media for parents." Amy Web of The Thoughtful Parent

This activity book in the style of "wreck this journal" for kids encourages children ages 6--8 to spend less time on their devices, and more time engaged in fun and challenging activities.
Fuel your child's creativity. This hybrid kid's activity book and creative journal is filled to the brim with challenges and prompts that promote positivity, while also developing your child's mindfulness and creativity. The book cultivates a growth mindset for kids―encouraging them to think outside the box and be creative, while developing their ability to learn new things.
Screen-free entertainment. Your child won't want to put this book down. From a scavenger hunt of household items, to coloring-in illustrations and puzzles, this adventurous book is crafted to give your child a digital detox. They'll want to pick-up this book and do more challenging and fun activities, instead of sitting down in front of a screen.
Unlike TV and video games, this book benefits your child:
Building their confidence by encouraging them to try new things
Promoting mindfulness, positivity, and self-reflection with creative journal prompts
Growing their self-esteem by keeping them active and engaged in learning with challenges, crafts, and more
If your kids enjoyed books like Growth Mindset Activities for Kids; Learn, Grow, Succeed ; or You Got This, then they'll love Challenge Accepted