13 Days to Die: A Novel (Hardcover)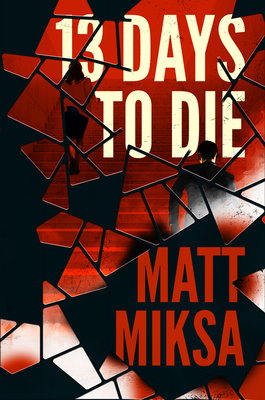 — - Anderson's Bookshop
Description
---
#1 AMAZON BESTSELLING MEDICAL THRILLER

Red Sparrow meets Inferno in Matt Miksa's debut which electrifies a Cold War spirit with fresh, modern-day expertise as our heroes wrestle society's darkest nightmares.

In a far-flung Tibetan village, prayer flags flap against whitewashed houses and a majestic monastery stretches to heaven. It's Shangri-La--the earthly paradise--until a stranger staggers out of the forest and collapses into a bloody, lifeless mass. He's the first victim of a crippling epidemic, but he's no ordinary man.

Olen Grave, an American intelligence officer, heads directly into the hot zone to investigate. Posing as a journalist, he joins the Chinese research team, led by a headstrong female virus hunter, Dr. Zhou Weilin. Together, the unlikely allies discover that Patient Zero was a spy who deliberately infected himself. But why? Who did he work for?

As Olen and Dr. Zhou rush to uncover the shocking truth behind the epidemic, they unravel a twisted conspiracy that reaches from Beijing's great halls to Washington's corridors of power. With the superpowers now at the brink of war, the fate of the world will rest on the duo's shoulders.
About the Author
---
Matt Miksa is a former FBI intelligence analyst who helped prevent foreign spies from stealing America's secrets. Today, he writes espionage thrillers that blend history, politics, and science. Matt holds a graduate degree in China Studies from Columbia University and has spent time living in Beijing. He currently resides in Chicago with his wife and two young daughters.
Praise For…
---
Praise for 13 Days to Die:
"[A] twisty, complex plot...This timely thriller is worth checking out."
—Publishers Weekly

"A riveting international thriller...taut and full of action, twists and turns."
—NY Journal of Books

"Sexy spies, stealthy agents, and strong personalities...13 Days to Die is an of-the-moment thriller."
—Foreword Reviews
 
"An impressive, globe-spanning thriller whose plot is sure to intrigue."
—Mystery Scene

"A simply riveting read from cover to cover."
—Midwest Book Review

"Matt Miksa's background as an intelligence analyst really shines through in 13 Days to Die. The plot is taut and timely, the action rapid-fire—an absolute must-read!"  
—Ward Larsen, USA Today bestselling author of Assassin's Strike and the David Slaton series

"Compelling and all too plausible. Matt Miksa's 13 Days to Die has more twists and turns than a raging river."
—David Ricciardi, bestselling author of the Jake Keller thrillers

"Debut author Matt Miksa arrives on the scene with a tightly plotted thriller for our times. 13 Days to Die hums with tension and crackles with action."
—Tom Young, author of the Parson and Gold thrillers

"Timely and well-researched, you'll be on the edge-of-your-seat and up-all-night."
—Robert Gleason, author of End of Days