The Hawthorne School: A Novel (Hardcover)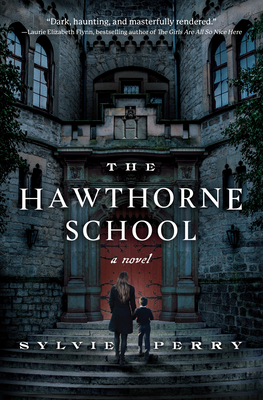 Description
---
For fans of Riley Sager, The Hawthorne School is a twisty psychological suspense about the lengths one mother will go for her child, inspired by present-day obsession with cults and true crime.

Claudia Vera is overwhelmed. She's a single parent trying the best that she can, but her four-year-old son, Henry, is a handful--for her and for his preschool. When Claudia hears about a school with an atypical teaching style near her Chicagoland home, she has to visit. The Hawthorne School is beautiful and has everything she dreams of for Henry: time to play outside, music, and art. The head of the school, Zelma, will even let Claudia volunteer to cover the cost of tuition.

The school is good for Henry: his "behavioral problems" disappear, and he comes home subdued instead of rageful. But there's something a bit off about the school, its cold halls, and its enigmatic headmistress. When Henry brings home stories of ceremonies in the woods and odd rules, Claudia's instincts tell her that something isn't quite right, and she begins to realize she's caught in a web of manipulations and power.

The author's work as a psychotherapist, with a focus on narcissistic manipulation and addictive power dynamics, guides this exploration of a young mother wanting to do the best for her child.
About the Author
---
Sylvie Perry is the pseudonym of a Chicagoland-based psychotherapist. One of her professional focuses is in counseling survivors of narcissistic manipulation. She has a Masters in English. She previously wrote in another genre under a different pseudonym. The Hawthorne School is her first psychological suspense novel.
Praise For…
---
Praise for The Hawthorne School:
"[Perry] expertly explores the vulnerability of a well-meaning but insecure parent to manipulation."
—Publishers Weekly

"[A] fable of Stepford children."
—Kirkus Reviews

"A fun ride for readers who enjoy suspenseful and psychological thrillers."
—Manhattan Book Review

"[Perry] has written one of the most unusual and best mysteries of 2021. [For] fans of psychological mysteries and of the movie Get Out"
—First Clue

"I thoroughly enjoyed The Hawthorne School. I loved the way the texture was built around the story, with a sense of foreboding early on, even as it seemed like everything was going well. The twists make for a fast and wild ride all the way to the end."
—Rena Olsen, author of The Girl Before

"The Hawthorne School is a pulse-pounding psychological thriller that will have you furiously flipping pages until its heart-stopping conclusion. But it is much more than that too. Long after you've turned that last page, it forces you to consider how far would you'd go for your family and the ways others can prey on you."
—Adam Mitzner, Amazon Charts bestselling author of The Perfect Marriage

"Dark, haunting, and masterfully rendered, I couldn't stop reading The Hawthorne School. It's a dynamic, multifaceted study in obsession, manipulation, and power, as well as an in-depth exploration into the relationship between mother and child. This story and its characters will stay with you long after the last page."
—Laurie Elizabeth Flynn, bestselling author of The Girls Are All So Nice Here

"Spine-chilling, tense and thought-provoking, The Hawthorne School is a mesmeric read that doesn't let go until the final page."
—Laura Elliot, USA Today bestselling author of The Silent House