'Twas the Night Before Christmas at My House (Night Before Christmas In) (Hardcover)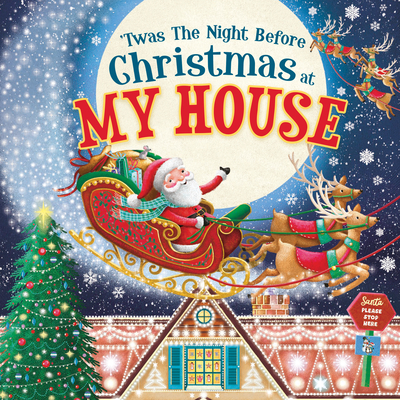 Description
---
A classic Christmas story combined with the magic of Santa visiting YOUR HOUSE!
It's the night before Christmas and you're nestled snug in your bed. Your stocking is hung by the chimney with care—will Santa visit YOUR HOUSE? Follow Santa's journey in this magical retelling of a classic children's Christmas book starring the special place where you live. An ideal Christmas gift or holiday stocking stuffer, this read-aloud story is the perfect way for kids, parents, grandparents, and caregivers to celebrate the holiday season.
What's inside:
A Christmas certificate announcing YOUR CHILD is on Santa's Nice List
Magical illustrations that capture the wonder of the holiday season
A reprisal of the classic 'Twas the Night Before Christmas story featuring Santa's visit to YOUR HOUSE
Far, far away at the North Pole,
Santa is busy planning his Christmas Eve
journey to a special place...
your hometown!
About the Author
---
Jo specialized in illustration and design in art school and has been working as a full time illustrator ever since. She has worked in magazines, children's books, greetings cards and many areas beyond including games, puzzles, and calendars. When she's not busy illustrating, she also teaches art to children. Jo lives in the UK and feels very blessed to have such an exciting career, one she wishes to continue for years to come.