Once More Upon a Time (Hardcover)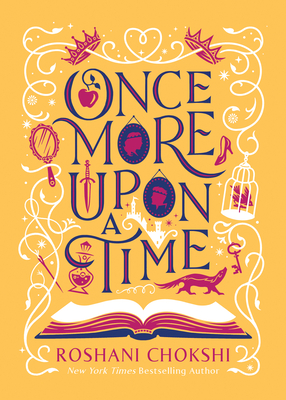 Description
---
Immerse yourself a highly unusual fairy tale by New York Times bestselling author Roshani Chokshi.
Once upon a dream, there was a prince named Ambrose
and a princess named Imelda who loved each other…
But alas, no more.
"What a witch takes, a witch does not give back!"
their friends and family warn.
They resign themselves to this loveless fate…
A year and a day pass.
And then their story truly begins…
Embark on a perilous journey with Imelda and Ambrose as they brave magical landscapes and enchanted creatures on their quest to reclaim their heart's desire…But first they must remember what that is…
Perfect for readers looking for:
A fresh, magical fairy tale
Love so strong, it breaks a witch's curse
An enchanting world to escape to
A delightful cast of magical characters
Compelling storytelling from a beloved, bestselling fantasy author
Praise for Roshani Chokshi:
"Reading Chokshi's prose is like sinking deeply into a plush, purple velvet sofa…lavish descriptions wrap you in sumptuous sensory detail."—New York Times
"Vivid and lovely writing."—Entertainment Weekly
About the Author
---
Roshani Chokshi is the author of commercial and critically acclaimed books for middle grade and young adult readers that draws on world mythology and folklore. Her work has been nominated for the Locus and Nebula awards, and has frequently appeared on Best of The Year lists from Barnes and Noble, Forbes, Buzzfeed and more. Her New York Times bestselling series includes The Star-Touched Queen duology, The Gilded Wolves, and Aru Shah and The End of Time, which was recently optioned for film by Paramount Pictures.
Praise For…
---
"This short, charming fable is packed with tongue-in-cheek humor and astute reflections on the sacrifices and risks that come with love as free-spirited Imelda and self-conscious Ambrose reconnect. Mimicking oral storytelling techniques, Chokshi's playful narrative invites readers to relax into a delightful adventure of twice upon a time." — Shelf Awareness
"An absolute treat." — Locus Magazine