Folksong (Paperback)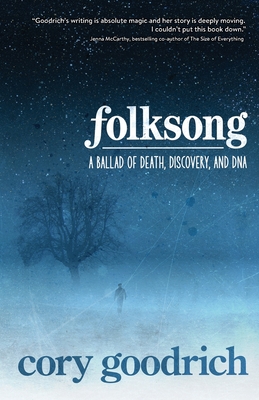 Description
---
If a family tree falls in the woods and no one is around to see it, do I even exist?
Cory Goodrich proudly lived the first fifty-one years of her life as the fourth child of Tom and Ernestine. Then, a mysterious photograph combined with a few comments dropped over the years by her mother like irresistible breadcrumbs revealed the truth. Folksong is at once a remarkable memoir of love and longing, an ode to self-discovery, an emotional ballad of grief and forgiveness, and a heart-stirring look at the lengths to which a family will go to protect themselves and each other.
Goodrich writes the story about the father who took her in, the father who took her away, the father who gave her away, and her 89-year-old mother whose broken heart finally gave out while still protecting the secret to Goodrich's identity. Sifting through the remnants of a life captured in letters and old Polaroids, Goodrich discovers a secret that sets her on a journey with life-altering consequences. In the era of Ancestry.com, DNA testing, and social media, Goodrich was able to gather together just enough pieces of a puzzle locked away for over fifty years to clearly make out the unfathomable image it depicted.
Throughout, Goodrich reminds us that while things aren't always what they seem, stunning fortitude and unexpected legacy can rise from the disorganized ashes of a toppled identity.
EDITORIAL REVIEWS
"Goodrich's writing is absolute magic and her story is deeply moving. I couldn't put this book down."
-Jenna McCarthy, bestselling co-author of The Size of Everything
"The courageous reckoning of a woman blindsided by grief and healed by love and forgiveness."
-B.K. Jackson, Severance Magazine