Teen Titans Go!/DC Super Hero Girls: Exchange Students! (Paperback)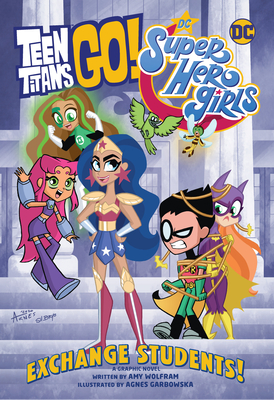 $9.99

Out Of Stock - Can Be Ordered For You. May take extra time.
Description
---
Starfire has always wanted to be better friends with her sister, who mostly comes to Earth to cause trouble instead of enjoying the sisterly bonding. But this time, Blackfire's not even in the same Earth dimension! The Teen Titans will have to go undercover in a strange new version of Metropolis...one where the heroes have secret identities!

Meanwhile, the DC Super Hero Girls have all been assigned exchange students to show around school. They'd really rather battle the new super-villain in town, but hiding their super-activities from the rather strange new people staying in their homes is proving difficult.

Surely that's all a coincidence.
About the Author
---
Amy Wolfram is an Emmy-nominated writer for television, movies, and comic books. She is super-excited to be writing DC Super Hero Girls graphic novels! If she had to pick a favorite Super Hero Girl--she'd pick them all! Best known for writing for Teen Titans for both television (Teen Titans, Teen Titans Go!) and comics (Teen Titans: Year One, Teen Titans Go!), Amy has also had fun writing for many of her favorite characters; Barbie, Stuart Little, Ben 10, Thunderbirds Are Go, and Scooby-Doo. When she's not busy writing she enjoys crafting and quilting.

Agnes Garbowska has made her name in comics illustrating such titles as the New York Times bestselling and award-winning DC Super Hero Girls for DC Comics. In addition, her portfolio includes a long run on My Little Pony for IDW, Teen Titans Go! for DC Comics, Grumpy Cat for Dynamite Entertainment, and Sonic Universe: Off Panel strips for Archie Comics.