Christie and Agatha's Detective Agency: A Discovery Disappears (Paperback)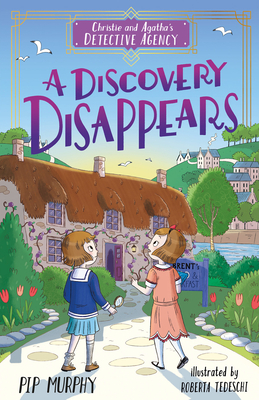 $6.99

Pre-Order Now! Please Place On A Separate Order From Other Purchases.
Description
---
Book 1 in the fun 1920s detective series starring twin sisters Christie and Agatha
"Whoever gave you that sandwich did it deliberately. They wanted to sabotage Fleming's research."
When Agatha accidentally eats a major scientific discovery (hidden in a sandwich ), it's a race against time for twins Agatha and Christie to find out who's trying to ruin physician Sir Alexander Fleming's reputation.
About the Christie and Agatha's Detective Agency series:
It's not easy growing up in the 1920s. While Christie can usually be found up a tree or trying a spot of amateur engineering, her shy twin Agatha buries her nose in books and dreams of being a writer. The pair couldn't be more different. But when a scientific discovery goes missing, they find that together they make a winning combination and Christie and Agatha's Detective Agency is born. Join the twin detectives as they solve thrilling mysteries all over the world
About the Author
---
Pip Murphy is a British writer and lived her early life in England on the Wirral. She studied Classics at Edinburgh University, after which she moved to Tokyo, Japan. Pip is also an English teacher and has loved reading her whole life - some of the books that influenced and inspired her the most were ones she read when she was little (she even read every book in her primary school, some of them more than once).