Ain't That a Mother: Postpartum, Palsy, and Everything in Between (MP3 CD)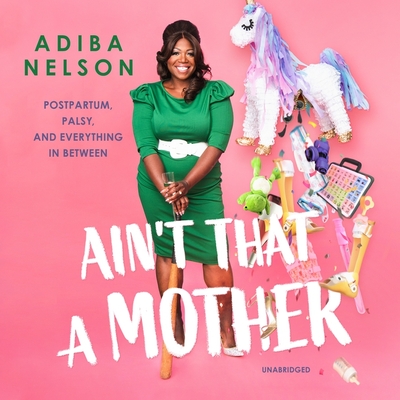 Description
---
From pasties to postpartum and everything in between
No one said motherhood would be easy. For Adiba Nelson, the journey to parenthood started with a big bang and continues with a breakdown (or two) and several why? questions for God.
Witty and bold, Afro-Latina Adiba grew up in survival mode. Her sometimes complicated relationship with her strong-willed, vibrant, religious mother marked her views of mothering and love. When a chance encounter with a tall-ish, brown-skinned brotha at Ruby Tuesday's right before closing time collided with a Jill Scott song and the right time of the month, Adiba found herself unexpectedly pregnant. She also found herself unexpectedly falling into the same relationship patterns of the matriarchs before her--the ones she swore she'd never end up in.
Mom to a new baby with high medical needs and with a slew of hardships that just won't quit, she set out on a reckoning that was just as generational as it was personal. Along the way, Adiba never loses her heart or her humor. This is a true love story, but the kind about a woman loving herself enough to change the course of her life for herself, her child, and the women after her as well as before. From pasties to postpartum depression, Ain't That A Mother is not your average motherhood memoir--and Adiba is not your average mother.
The in-between moments and the self-revelations are where this bold and brilliant story of love, family secrets, and lots of what the...? really shines. Just like parenting, the story is messy, but the reward is incredibly satisfying.