Christie and Agatha's Detective Agency: Tombful of Trouble (Paperback)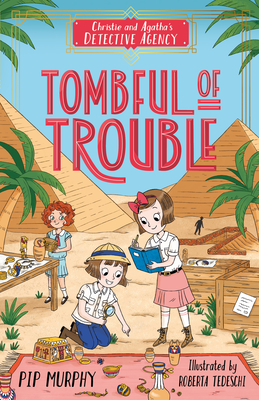 $6.99

Out Of Stock - Can Be Ordered For You. May take extra time.
Description
---
Travel 100 years back in time to solve 1920s crimes and mysteries with young twins, Christie and Agatha
Book 3 in the 1920s detective series that fictionalise discoveries and events of the 1920s with a fun whodunnit twist
"The truth of the matter is that a number of valuable artefacts have been stolen. There is a thief at the dig "
Christie and Agatha find themselves at the heart of a mystery, during the excavation of an Egyptian pharaoh. Lord and Lady Carnarvon's dig is in jeopardy unless the thief at the site can be found. But time is quickly running out for the twins to wrap up the case at the mummy's tomb.
About the Christie and Agatha's Detective Agency series:
It's not easy growing up in the 1920s. While Christie can usually be found up a tree or trying a spot of amateur engineering, her shy twin Agatha buries her nose in books and dreams of being a writer. The pair couldn't be more different. But when a scientific discovery goes missing, they find that together they make a winning combination and Christie and Agatha's Detective Agency is born. Join the twin detectives as they solve thrilling mysteries all over the world
About the Author
---
Pip Murphy (Philippa Murphy) is a British author and lived her early life in England. She has loved reading her whole life and some of the books that influenced and inspired her the most were ones she read when she was little. She read every book in her elementary school, some of them more than once! Pip studied Classics at Edinburgh University, before relocating to Tokyo, Japan where she now teaches English to high school students to people long retired. She believes that humor and creativity are the best ways to learn.