Edinburgh by Smartphone (Paperback)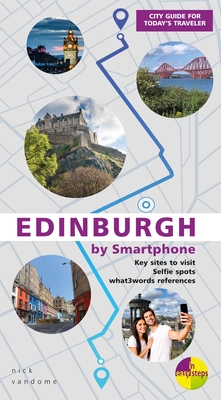 Description
---
Edinburgh by
Smartphone is a city guidebook for the digital age, offering unique
insight into the city and giving you the chance to put your smartphone to
excellent use as your traveling companion
Edinburgh by
Smartphone concentrates on photo locations for capturing
iconic shots of the most famous sights in the city, and also some less
well-known locations that nevertheless offer excellent photographic opportunities.
The second main element of the book details walks around the city that can
easily be incorporated into any city break.
Each photo spot has clear what3words
references for getting to the required location and where to stand when you get
there. It also provides background information about the photo subjects, and
lists nearby refreshments options and other notable attractions in the
vicinity.
The photo spots include:
Edinburgh Castle The Scott Monument Greyfriars Bobby St. Giles' Cathedral The Royal Mile Calton Hill Holyroodhouse Palace Scottish Parliament Building Arthur's Seat Victoria Street The Grassmarket Dean Village
The walks covered in the book (complete with
distances and estimated number of steps) are:
Old Town Walk.
Exploring Edinburgh's historic Old Town, centred around the Royal Mile.
New Town Walk.
In contrast to the Old Town, the New Town
presents ordered Georgian elegance and this walk takes you through its streets.
Literary Walk.
Edinburgh has an extremely rich literary
history, and this walk takes you to the places where many of Edinburgh's most
famous writers lived and worked, including Sir Walter Scott, Sir Arthur Conan
Doyle, Robert Louis Stevenson, J. K. Rowling and Ian Rankin.
Dark Side Walk.
It is impossible to escape the fact that
Edinburgh has had more than its fair share of devious and murderous characters
over the centuries. This walk takes in the sites where they operated, and
details many of their activities, including the numerous ghostly stories that
have flourished around the city.
Water of Leith Walk.
As an antidote to the hustle and bustle
of the city centre, this walk takes you through the nearby tranquil Water of
Leith, including the picturesque and historic Dean Village.
Arthur's Seat Walk.
Looming large over the city, this walk
takes you to the summit of Arthur's Seat (and back), for a vigorous walk and
stunning views over the city.
Getting the best out of a smartphone camera is
also looked at, so you can take the best photos possible, feel confident using
your smartphone camera, and concentrate all your attention on the photo
subjects.