London by Smartphone (Paperback)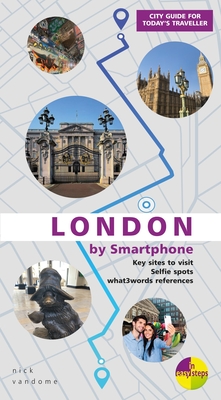 Description
---
London by Smartphone is a city guidebook
for the digital age, offering unique insight into the city and giving you the
chance to put your smartphone to excellent use as your traveling
companion
London by Smartphone
concentrates on photo locations for capturing iconic shots of the most famous
sights in the city, and also some less well-known locations that nevertheless
offer excellent photographic opportunities. The second main element of the book
details walks around the city, that can easily be incorporated into any city
break.
Each photo spot has clear
what3words references for getting to the required
location and where to stand when you get there. It also provides background
information about the photo subjects, lists nearby refreshments options and
other notable attractions in the vicinity. The nearest tube station to each location
is also provided.
The top photo sights
include:
Buckingham Palace Big Ben Houses of Parliament Tower of London Tower Bridge St. Paul's Cathedral Trafalgar Square
The hidden sights show a different side to the
city, and these include:
The quirky Hardy Tree The thought-provoking Postman's Park The aquatic Little Venice The street art of the Leake Street
Arches
The walks covered in the book (complete with distances
and estimated number of steps) are:
Jubilee Loop Walk.
This
includes some of London's top sights, and also the attractive and relaxing St.
James's Park.
Thames Walk.
The River Thames is at the very heart of
London, and this walk takes you along its bank, crossing three of its famous
bridges, and identifying many interesting sights and locations along the way.
Hyde Park Walk.
London is blessed with several exceptional
green spaces and this walk guides you through one of them in Hyde Park. It
includes several monuments and statues, including the tranquil Serenity statue,
the Serpentine body of water that cuts through Hyde Park, and some of the
floral attractions within the park.
Monopoly Walk.
For fans of the board game this walk is a
must, as it follows some of the iconic London Monopoly locations and includes
an option for spotting examples of the Monopoly pieces.
Spitalfields and Whitechapel Walk.

This walk explores some
of the character and diversity of this area in the east end London that has
helped shape its history over the centuries. It also includes details about the
locations of the notorious Jack the Ripper murders.
Getting the best out of a smartphone camera is also
looked at, so you can take the best photos possible, feel confident using your
smartphone camera, and concentrate all your attention on the photo subjects.