The Mayo Clinic Diabetes Diet: 2nd Edition: Revised and Updated (Hardcover)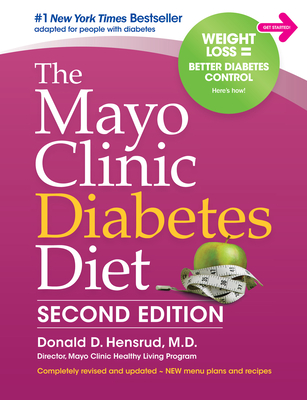 Description
---
From the endocrinology experts at the Mayo Clinic comes an updated diabetes diet plan specifically designed to help prevent and manage prediabetes and type 2 diabetes. This adaptation of the #1 New York Times bestselling book, The Mayo Clinic Diet, provides those living with diabetes with a simple and straightforward guide to losing weight—and keeping it off.



Countless issues can thwart weight loss attempts—a sedentary lifestyle, struggles with cravings, limited time to plan healthy meals and exercise, and minimal support from family and friends. The Mayo Clinic Diabetes Diet provides solutions to these issues in the form of physician-approved meal plans, recipes for diabetics (that you'll actually want to eat!), tips for increasing your physical activity, and tools to help you track your weight loss progress.

This book will also help you change your mindset around weight loss by teaching you five healthy habits for weight loss success, five habits to kick to help you transition into a healthy lifestyle, and five bonus habits to make the weight loss process as pain free as possible.

The Mayo Clinic Diabetes Diet follows the Mayo Clinic's scientifically proven method for weight loss by following a two-step program. The first phase of the program, Lose It!, is a straightforward two-week plan that helps at-risk individuals lose weight quickly and safely, lowering the body's overall blood sugar in the process. The second phase, Live It!, offers manageable lifestyle changes to help individuals lose one to two additional pounds a week until they reach their desired weight.

Additionally, the new second edition of this bestselling book now offers a bonus section packed with information about understanding calorie intake versus output, choosing healthy ingredients for a diabetic diet, finding healthy food (whether you're in a restaurant or a grocery store), as well as helpful advice for pushing past weight loss plateaus.

Committing to a healthy lifestyle now can help avoid dangerous health complications later. When combined with The Mayo Clinic Diabetes Diet Journal, this all-encompassing guide from the weight-loss and nutrition experts at the Mayo Clinic will help you lose weight, live an improved lifestyle, and gain control of your diabetes, once and for all.
About the Author
---
Donald D. Hensrud, M.D., M.P.H., is the director of the Mayo Clinic Healthy Living Program. He is a consultant in the departments of General Internal Medicine and Preventive, Occupational and Aerospace Medicine at Mayo Clinic in Rochester, Minnesota, and serves as an associate professor of nutrition and preventive medicine at Mayo Clinic College of Medicine. For more than twenty years, Dr. Hensrud has been leading research related to obesity, nutrition, and weight management. His previously published books have earned him numerous awards, including a Gourmand World Cookbook Award for his work on the Mayo Clinic/Williams-Sonoma Cookbook and a James Beard Foundation Award for his contribution to The New Mayo Clinic Cookbook. As a specialist in nutrition and weight management, Dr. Hensrud frequently advises individuals on weight management, health and wellness, and other lifestyle- and nutrition-related topics.