Empty Cabin: A Choose Your Path Mystery (Paperback)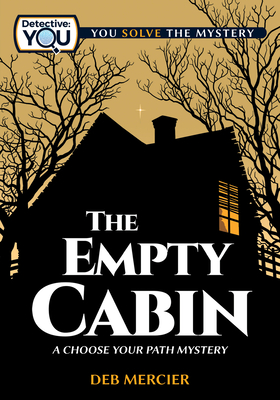 Description
---
Become a kid detective. Identify suspects, gather clues, navigate puzzles, and solve the mystery in this interactive Choose Your Path adventure.
The secluded cabin resort your parents own won't make any "best destination" lists, but it's the perfect place to spend a summer. There's swimming, fishing, birdwatching--and a steady stream of visitors who, from week to week, pass in and out of your life. Except for Loretta. A regular guest of Cabin 4, Loretta is an avid hiker and a stand-in grandmother to you. So when you find her cabin empty one morning, you know that something's wrong--even if no one else believes you.
You're the detective in this puzzling mystery. As you work your way through the story, it's up to you to identify suspects and gather clues. Make choices that affect what happens next. Navigate challenging puzzles--from riddles to secret codes--to build your case. Use deductive reasoning to determine what the crime was, how it happened, and whodunit. But be careful; one wrong choice could lead to your doom
Interactive books for kids are more popular than ever. Create your own adventure with the Detective: You book series for boys and girls. You're the main character. You make the choices. Will you solve the case?
About the Author
---
Deb Mercier lives in greater Minnesota with her husband and outdoor critter friends. She writes books for young readers and works as a technical writer at Douglas Machine, Inc. When Deb's not writing, you can find her wandering the trails on bike and on foot, saving turtles from roadways, and playing flute in the Central Lakes Symphony Orchestra.