Poet Anderson ...Of Nightmares (Poet Anderson #1) (Hardcover)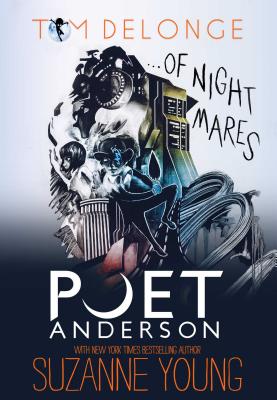 $17.99
Usually Ships in 1-5 Days
Description
---
Winner of the silver Benjamin Franklin award for Best Teen Fiction and part of the critically acclaimed transmedia project Poet Anderson: The Dream Walker, comes what is hailed as a "teen Blade Runner, this book has nonstop action with dramatic, heart-pounding escapes" by the School Library Journal. Poet Anderson...Of Nightmares is a thrilling, edge of your seat story written by award-winning musician, producer and director Tom DeLonge and New York Times bestselling author Suzanne Young.

Poet Anderson...Of Nightmares follows the epic journey of two orphan brothers, Jonas and Alan, who are Lucid Dreamers. After a tragic car accident lands Alan in a coma, Jonas sets out into the Dream World in an attempt to find his brother and wake him up. What he discovers instead is an entire shared consciousness where fear comes to life as a snarling beast called a Night Terror, and a creature named REM is bent on destruction and misery, devouring the souls of the strongest dreamers to get closer to the Waking World. With the help of a Dream Walker—a guardian of the dreamscape, Jonas must face his fears, save his brother, and become who he was always meant to be: Poet Anderson.

Also keep an eye out for …Of Nightmares, the original soundtrack EP by Angels & Airwaves.
About the Author
---
Tom DeLonge: An award-winning American musician, producer and director best known as the lead vocalist and songwriter for the platinum selling rock bands Blink-182 and Angles & Airwaves.

Suzanne Young: Suzanne Young is the New York Times bestselling author of The Program series. Originally from Utica, New York, Suzanne moved to Arizona to pursue her dream of not freezing to death. She is a novelist and an English teacher, but not always in that order. Suzanne is the author of THE PROGRAM, THE TREATMENT, THE REMEDY, and HOTEL RUBY.
Praise For…
---
Reads like a blend between Harry Potter and The Matrix. ...Of Nightmares hits the trifecta.

"...alt rock's J.K. Rowling."

"No doubt about it- Tom DeLonge is a modern-day Dream Weaver."

Musician DeLonge (of the band Blink-182) teams with seasoned writer Young (The Program, 2013) to explore the relationship between dreams and reality. Orphaned when their parents die in a plane crash, brothers Jonas and Alan can travel together in dreams and are learning how to manipulate waking reality through their actions in those dreamscapes. On their way to Seattle, where Alan will start a doorman job at the Eden Hotel, a terrible auto accident leaves Alan in a coma. There's shades of the Wild West in the almost nonstop action, which includes a car chase, a monocycle race, and fist and knife fights, leaving little room for developing personalities. Characters are closer to archetypes than flesh and blood, but the draw here will be the interesting questions raised about the power of our fears, and the hero's journey to conquer inner demons. This first in a planned trilogy will be released concurrent with an original soundtrack and accompanying visual art.

— Debbie Carton
— Booklist Online

"It is a very quick and quite enjoyable read. It is full of action and suspense as well as humour. The world DeLonge has created is incredibly vivid and well imagined and the plot has some great twists, especially near the end, which were utterly unexpected. ... I would encourage you to read it if you enjoy fast paced action and romance with tense cliff hangers."

"This is a book that guys and girls, as well as their parents, can get behind and totally fall in love and that's so rare to find these days. If you're ready for a book that will take you into a world which can be found each time you close your eyes, a dark adventure full of new and fascinating places and characters you won't soon forget, then absolutely pick up Poet Anderson…Of Nightmares and get prepared to be blown away!! Absolutely my favorite read of 2015 and I can't wait for book two!!"

"I totally enjoyed every minute spent reading this masterpiece of a novel and I'm eagerly awaiting the next installment in this surreal, visceral, imaginative, fantastical, adventurous ride of a novel and I highly recommend this to ALL readers!"

"Tom DeLonge and Suzanne Young created a story that pulled me in from the very first page and kept me turning the pages to find out what was going to happen next... Just know that I loved every minute of this book and am hopeful that we will have more stories from these two that include the Andersons. Definitely consider checking this book out when you can – I found I was unable to put it down and now that I am finished I just want more."

"5/5 Engaging and innovative...exciting and highly entertaining."