The Unofficial Harry Potter Hogwarts Handbook: MuggleNet's complete guide to the most famous school for wizards and witches (The Unofficial Harry Potter Reference Library) (Hardcover)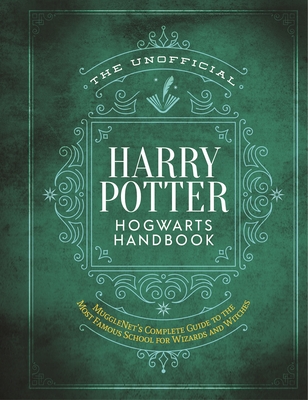 Description
---
This comprehensive tome examines the endless details of life at Hogwarts, the most famous school in the Wizarding World of Harry Potter. Inside, readers will find an extraordinary assortment of insights and information about how the school works, how it's organized, what classes are taught, who teaches them, what secrets or mysteries might be discovered and much more!

Certain to make reading (or re-reading) the Harry Potter series that much more intriguing, this book explores the traditional and extraordinary in equal measure, uncovering details about the school that readers will savor, including:

- The history and traditions of Hogwarts, including notable alumni
- Details of the four founders, Godric Gryffindor, Helga Hufflepuff, Rowena Ravenclaw and Salazar Slytherin
- How the school is organized with teachers, prefects, headboys and headgirls
- Holidays, feasts and celebrations
- The castle layout, classrooms, common rooms, courtyards, dungeons, secret rooms and more
- Details into the "living" artwork throughout the castle
- Artifacts, enchantments, protections and secret passageways
- Hagrid's Hut, the Whomping Willow, The Forbidden Forest and beyond!
- A visitor's guide to Hogsmeade
- Castle inhabitants, including professors, ghosts and staff
- Details of student life, academics, text books and much more!

The Unofficial Harry Potter Hogwarts Handbook is the next best thing to attending Hogwarts itself, providing more Wizarding World insight, detail and fun than ever before recorded in a single book.
About the Author
---
MuggleNet is the world's #1 Harry Potter website, hosting more than 1.5 million visitors each month. Having celebrated its 20th year in 2019, MuggleNet is one of the world's primary sources for all things Harry Potter. The site has been quoted by periodicals and news outlets such as Cosmopolitan, SyFy, Newsweek, Bustle, Nerdist, BBC Radio, The Los Angeles Times, People.com and many others. The site has even been a crossword puzzle clue in The New York Times.