The Butterfly Effect: How Kendrick Lamar Ignited the Soul of Black America (Hardcover)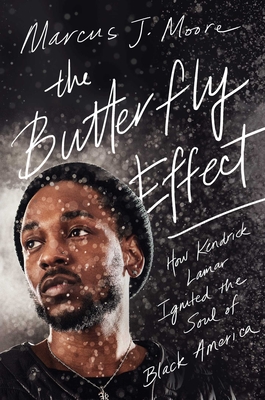 $27.00

Temporarily Out Of Stock - Can Be Ordered For You, Takes Extra Time.
Description
---
This first cultural biography of rap superstar and "master of storytelling" (The New Yorker) Kendrick Lamar explores his meteoric rise to fame and his profound impact on a racially fraught America—perfect for fans of Zack O'Malley Greenburg's Empire State of Mind.

Kendrick Lamar is at the top of his game.

The thirteen-time Grammy Award­–winning rapper is just in his early thirties, but he's already won the Pulitzer Prize for Music, produced and curated the soundtrack of the megahit film Black Panther, and has been named one of Time's 100 Influential People. But what's even more striking about the Compton-born lyricist and performer is how he's established himself as a formidable adversary of oppression and force for change. Through his confessional poetics, his politically charged anthems, and his radical performances, Lamar has become a beacon of light for countless people.

Written by veteran journalist and music critic Marcus J. Moore, this is the first biography of Kendrick Lamar. It's the definitive account of his coming-of-age as an artist, his resurrection of two languishing genres (bebop and jazz), his profound impact on a racially fraught America, and his emergence as the bona fide King of Rap.

The Butterfly Effect is the extraordinary, triumphant story of a modern lyrical prophet and an American icon who has given hope to those buckling under the weight of systemic oppression, reminding everyone that through it all—"we gon' be alright."
About the Author
---
Marcus J. Moore is an award-winning music journalist, senior editor, curator, and pop culture commentator, whose writing can be found in Pitchfork, The Washington Post, Entertainment Weekly, The Nation, NPR, The Atlantic, BBC Music, and MTV, among others. He's created nationally syndicated playlists for Google, discussed new music live on FM radio, contributed to national podcasts, and guest-hosted live shows on Red Bull Radio. In 2009, Moore launched his own site—DMV Spectrum—which covered music and entertainment in Washington, DC; Maryland; and Virginia. He was originally from the Washington, DC, area, and now lives in Brooklyn, New York. The Butterfly Effect is his first book.
Praise For…
---
Praise for The Butterfly Effect

"Kendrick Lamar is the most creatively captivating rapper of the past decade. This means inspecting and placing into context his profound legacy is nothing short of a gargantuan task. Fortunately for us, Marcus J. Moore exists. His writing has never been sharper, never been more concise, never been more insightful than it is here. This book is smart, confident, and necessary." —Shea Serrano, New York Times bestselling author of The Rap Year Book and Movies (And Other Things)

"I have a great amount of gratitude for The Butterly Effect and the triumph of chronicling one of our great artists while they're still here with us. Marcus J. Moore is thoughtful, incisive, and generous in this work, and will hopefully set a blueprint for how we honor the brilliant and living." —Hanif Abdurraqib, New York Times bestselling author of Go Ahead In The Rain: Notes to A Tribe Called Quest

"The Butterfly Effect is much more than a biographical look at the voice of hip-hop's new generation. It's an analytical deep dive into the life of that good kid whose m.A.A.d city raised him, and how it sparked a fire within Kendrick Lamar to change history. Through thoughtful prose, strong investigative research, and a deep passion for the subject matter, Marcus J. Moore paints a picture of Kendrick that anyone can admire." —Kathy Iandoli, author of God Save The Queens: The Essential History of Women in Hip-Hop

"Marcus J. Moore's look at Kendrick Lamar beautifully illustrates the power of the word and the great value it holds in the community that birthed hip hop. Therein, we all better understand and appreciate why Black lives—and rhymes—matter." —Sacha Jenkins, Emmy-nominated director of Showtime documentary Wu-Tang Clan: Of Mics And Men