Greenwich Park (Hardcover)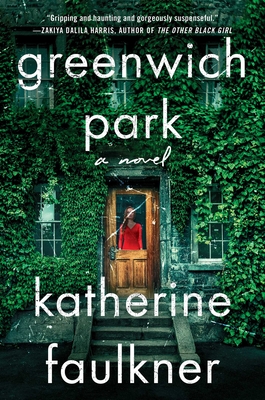 $27.99

Out Of Stock - Can Be Ordered For You. May take extra time.
February 2022 Indie Next List
---
"Such a fun and addicting thriller! I was torn between reading slowly to catch all the nuances and speed reading to figure out what happens. The book pulls punches to the very end. Highly recommended for psychological thriller lovers!"
— Kristen Beverly, Half Price Books, Dallas, TX
Description
---
"A twisty, fast-paced" (The Sunday Times, London) debut thriller, as electrifying as the #1 New York Times bestseller The Girl on the Train, about impending motherhood, unreliable friendship, and the high price of keeping secrets.

In this "gloriously tangled game of cat and mouse that kept the twists coming until the very last moment" (Ruth Ware, #1 New York Times bestselling author), Helen's idyllic life—handsome architect husband, gorgeous Victorian house, and cherished baby on the way—begins to change the day she attends her first prenatal class.

There, she meets Rachel, an unpredictable single mother-to-be who doesn't seem very maternal: she smokes, drinks, and professes little interest in parenthood. Still, Helen is drawn to her. Maybe Rachel just needs a friend. And to be honest, Helen's a bit lonely herself. At least Rachel is fun to be with. She makes Helen laugh, invites her confidences, and distracts her from her fears.

But her increasingly erratic behavior is unsettling. And Helen's not the only one who's noticed. Her friends and family begin to suspect that her strange new friend may be linked to their shared history in unexpected ways. When Rachel threatens to expose a past crime that could destroy all of their lives, it becomes clear that there are more than a few secrets laying beneath the broad-leaved trees and warm lamplight of Greenwich Park.
About the Author
---
Katherine Faulkner, an award-winning journalist, studied history at Cambridge. She has worked as an investigative reporter and an editor and was formerly the joint Head of News at The Times (London). She lives in London, where she grew up, with her husband and two daughters. She is the author of The Other Mothers and Greenwich Park.
Praise For…
---
"Katherine Faulkner is amazingly talented. Greenwich Park is gripping and haunting and gorgeously suspenseful. I couldn't put this thriller down and can't recommend it highly enough." --Zakiya Dalila Harris, author of The Other Black Girl

"A gloriously tangled game of cat and mouse that kept the twists coming until the very last moment." --Ruth Ware, #1 New York Times bestselling author of One By One

"Wonderfully addictive and electric, Greenwich Park gets under your skin from the very first pages and it's impossible to look away from the tangle of friendships, the haunting of a guilty past, and the unease of a growing obsession. While many thrillers are set in early motherhood, Katherine Faulkner brilliantly explores the anxious weeks before the baby is born, when the tension is as high as our hopes. I can't wait to read what Faulkner writes next." --Ashley Audrain, New York Times bestselling author of The Push

"A fantastically addictive read. It's so pacy, and there's a real sense of dread on every page . Fabulously unpleasant characters, and a beating feminist heart ." --Abigail Dean, New York Times bestselling author of Girl A

"I devoured Greenwich Park in two greedy sittings. The writing is razor-sharp, the characters deliciously problematic, and the ending utterly gasp-worthy. You'll remember this thriller long after the final page."-- Robin Morgan-Bentley, author of The Wreckage

"Deliciously dark and deftly plotted. Faulkner mines the seam of guilt beneath her characters' 'perfect' lives with devastating precision." --Lesley Kara, Sunday Times bestselling author of The Rumour

"Brilliantly twisty and full of excellently observed - if chilling - characters, Greenwich Park is a clever and knowing delve into the female psyche as well as a classic, pacy mystery. Atmospheric, aspirational and addictive!" --Harriet Walker, author of The New Girl

"Meticulously crafted and deeply satisfying, Greenwich Park has all the hallmarks of a first-class psychological thriller. I read it in two sittings and was left smiling sardonically at the final line." --Charlotte Philby, author of Part of the Family (Waterstones Thriller of the Month)

"Terrific. Pacey and suspenseful with a nice touch of satire." --Amanda Craig, author of The Golden Rule

"One of the best debuts I've read in a long time... Intelligently plotted, with several completely unexpected gut-punches along the way, Greenwich Park is both a psychologically complex and hugely entertaining novel - in short, the perfect thriller." -- Caz Frear, author of Sweet Little Lies and Shed No Tears



"Razor-sharp prose, a properly twisty set-up, lots of unlikeable characters and a strong feminist undercurrent - it's got the lot! I raced through it. Absolutely loved it." -- Harriet Tyce, author of Blood Orange

'Faulkner offers a clever spin on an expanding subcategory of psychological thrillers set during maternity leave… A twisty, fast-paced read'. -- The Sunday TImes (UK)

"[A] suspenseful thriller...with constantly growing levels of menace, this tension-filled novel will keep you guessing through its final revelations." --Kirkus (starred review)

"Well-paced debut… Faulkner ratchets up the tension throughout with clever narrative shifts. Domestic thriller fans should take a look." --Publishers Weekly

"Talk about suspense! Katherine Faulkner's Greenwich Park, told from three perspectives, centers on a pregnant woman who meets another mom-to-be who couldn't be more different from her. As their friendship develops, they realize they may be more connected than they think." --Marie Claire's "2022 Book Releases to Get Excited About!"